Burn Photos to a DVD
Xingyichen asked the Windows forum about burning photos to a DVD.

I have to start my answer with a question: What kind of photo DVD do you want? There are two options: Do you want to use the DVD as storage, or as video?

Storage makes sense if you want to back up your photos onto something you're not likely to erase (a very good idea), or if you want to give a huge number of photos to a friend or relative. Basically, you're just copying files; the files just happen to be photos.

Video DVDs work best if you want to entertain people with a slideshow they can watch in their living room. These are essentially the same as the commercial DVDs on which you buy and rent movies--except that the "movie" is a slideshow of your photographs.

I'm going to concentrate here on Windows 7 and Vista, because they have good, native DVD-authoring capabilities.

Burn a Storage DVD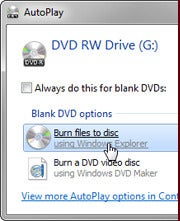 This is easy. Simply insert the disc into the drive, wait for the menu, and select Burn files to disc. Follow the very short wizard, which will open an empty folder in Windows Explorer. Drag the pictures you want to burn into that folder. When Windows is done copying the files, right-click the DVD drive in Windows Explorer and select Burn to disc.


Burn a Video DVD

You can create video DVDs with either Windows Movie Maker, which came with Vista, or with the free, downloadable Windows Live Movie Maker. Windows 7 users will have to go with the download--unless their PC came with this program preinstalled.
Using either of these programs, you can import photos, arrange them, add music, titles, and transitional effects (fades, wipes, and so on), and burn them to DVD.
Read the original forum discussion.
Contributing Editor Lincoln Spector uses photos of his cats in these articles because they never object to being seen in PC World. Email your tech questions to him at answer@pcworld.com, or post them to a community of helpful folks on the PCW Answer Line forum. Follow Lincoln on Twitter, or subscribe to the Answer Line newsletter, e-mailed weekly.