A PC Built Inside a Keyboard: Cybernet's ZPC-D5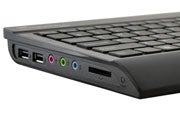 Cybernet's ZPC-D5 PC has an Atom processor, 4GB of RAM, a 250GB hard drive, and runs Windows 7 Professional. And it's all contained within a keyboard. For $650, you get a small, portable PC that saves space without compromising too much.
For comprehensive coverage of the Android ecosystem, visit Greenbot.com.