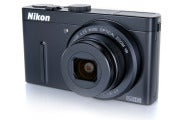 Nikon's Coolpix P300 is a compact camera with manual controls, an advanced point-and-shoot aimed toward casual photographers. When we reviewed the Coolpix P300 earlier this year, we thought it was a great deal for the price (then $330). Now it's an even better deal: B&H is selling the Nikon Coolpix P300 for only $233, for a limited time. (The expiration date wasn't provided, though the deal is still good as of this writing.)
For hot tech bargains in your inbox every week, subscribe to the PCWorld Bargain Bulletin newsletter.
This story, "Nikon Coolpix P300 Advanced Compact Camera, $233" was originally published by PCWorld Exclusive.