Netflix Says Sorry, Then Irks Customers Again with Qwikster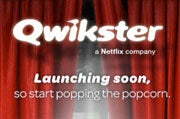 Netflix CEO Reed Hastings issued an apology for the company's July announcement that split users accounts into streaming and DVD rental categories. But then he announced the company was spinning off the DVD-by-mail service into a new company called Qwikster. Tim Moynihan analyzes what this will mean for the company.

Amazon Shop buttons are programmatically attached to all reviews, regardless of products' final review scores. Our parent company, IDG, receives advertisement revenue for shopping activity generated by the links. Because the buttons are attached programmatically, they should not be interpreted as editorial endorsements.