How to Get Free Music From the iTunes Music Store
I get it: You want some free tunes, but you don't want to be sued by the RIAA or by copyright trolls. Fair enough. Unfortunately, totally free music is rare these days--er, totally free and legal music, that is. But you can find some free music, and you can grab it straight from the music player you're probably already using: iTunes.
Yes, iTunes may be clunky, slow, and annoying, but it isn't entirely bad--especially once you know how to dig up free, legal music straight from the iTunes Music Store.
Free On iTunes
Guess what? iTunes has a whole page dedicated to free downloads. To access Free On iTunes, first open iTunes and click the iTunes Store item on the left-hand sidebar. Once you're in the iTunes Store homepage, look for a Quick Links heading on the right side. Underneath that heading will be a Free On iTunes link. Click the link, and voilà! This page features all sorts of free content, including music, movie clips, TV shows, apps, and even "new and notable" podcasts.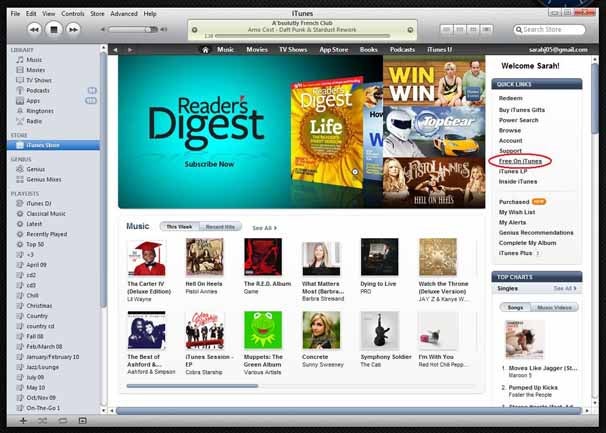 To download a free item, just click the little gray Free button. You will need an iTunes account to download anything from the iTunes Store.
No-cost items in the Free On iTunes section are usually available for around a week, so keep checking the page for updates. You can also follow the Free iTunes Downloads blog, which updates every time a new item appears.
Music Podcasts
If you don't mind listening to some chatter between songs, check out music-oriented podcasts available for free on iTunes. Podcasts are like prerecorded radio shows in that they usually include tunes and commentary. (Some don't have any commentary--AOLMedia's MP3 of the Day Podcast, for instance, offers one full, free song in each episode.)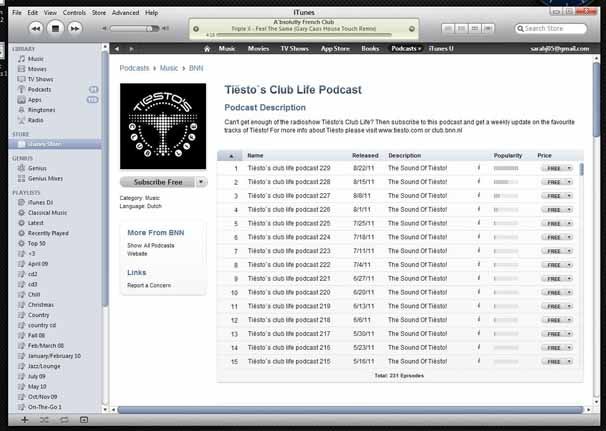 To browse podcasts, go to the iTunes Store and click the Podcasts link (on the top bar). Here you'll see everything from news and sports podcasts to science and tech podcasts, and all of them are free. To find music-oriented podcasts, go to the column on the right that says 'Podcast Quick Links' and click the drop-down menu. Choose Music, and you'll see hundreds of music podcasts.
To subscribe to a podcast, just click the Subscribe button next to the title. Once you do so, the current episode of the podcast will download, and future episodes will download automatically as they become available. You can also download past episodes by clicking the Free button next to an individual episode on the podcast's home page.
Here are some podcasts to check out, depending on your musical tastes.
Rock/Pop: Celebrity Playlist, IndieFeed: Indie Pop Music, Old Time Rock n Roll, Rock of Ages, Absolute Radio: Classic Rock
Indie/Alternative: They Might Be Giants, IndieFeed: Alternative/Modern Rock Music, Indie Spotlight, NPR: All Songs Considered
Rap/Hip-Hop: Alternative Hip-Hop Lounge, Mixtape Show Hip-Hop, Hierocast, Dope Joints! Hip Hop Mixshow
Electronica: Tiësto's Club Life by Tiësto, The John Digweed Podcast by John Digweed, Release Yourself by Roger Sanchez, Corsten's Countdown by Ferry Corsten, A State of Trance Official Podcast by Armin van Buuren
Next page: Starbucks "Pick of the Week" and iTunes Radio

Amazon Shop buttons are programmatically attached to all reviews, regardless of products' final review scores. Our parent company, IDG, receives advertisement revenue for shopping activity generated by the links. Because the buttons are attached programmatically, they should not be interpreted as editorial endorsements.