I don't know about you, but I'm a serious media junkie. I mean, I've got a huge DVD and Blu-ray disc collection, more CDs than I can count, and a lifetime of family photos and videos stored on hard drives and thumb drives (as well as a bunch on my iPhone). When I'm not working, I'm usually watching a movie, surfing Facebook, or both.
So when I discovered CyberLink PowerDVD 11 Ultra, I was super jazzed. Let's take a quick look at what it can do.
PowerDVD is a universal media player. It lets you enjoy all your home entertainment activities in one place by accessing them from a single application. From within PowerDVD, you can play virtually any movie, music, or video file, and view photos online and stored on your PC and gadgets like an iPhone or iPad. PowerDVD even lets you enhance the quality of YouTube videos, clean up noisy soundtracks, and stabilize shaky videos. Think of it as a home entertainment hub that also fixes imperfections.
Let's look at all the different types of media PowerDVD can handle. On the movie front, you can watch DVDs and Blu-ray discs (assuming your PC has a Blu-ray drive). You can also watch 3D Blu-ray movies (again, assuming you have a PC with a 3D-capable screen). PowerDVD is optimized to take full advantage of second-gen Intel Core i5 and i7 processors to ensure that discs play smoothly.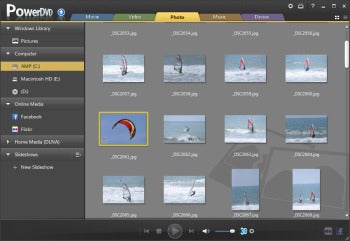 Beyond movie discs, PowerDVD lets you watch videos downloaded from the Internet and smart devices such as Android phones and tablets and Apple iPhones and iPads. There's even a CyberLink smart device app (available in the Apple App store and Android Market) that lets you share videos with your PC wirelessly. (This same app turns smart gadgets such as your phone into PowerDVD remote controls. Sit back on the couch and start, stop, and rewind Blu-ray discs, DVDs, music, and photo slideshows on your laptop with your iPhone!)
Social networks are a great way to stay in touch with old friends and current colleagues. PowerDVD makes it easy to check out your friends' photo albums on Facebook and Flickr. Give the app permission to access your account, and it will display all your friends' profile pictures. Clicking on a picture brings up their photo albums. Selecting a photo album lets you display its contents as a slideshow. You can also tap into your favorite videos on YouTube. Trés slick and convenient.
For enhancing photos and videos, PowerDVD includes CyberLink TrueTheater technologies. This is a suite of tools that let you do handy things like upscale standard-definition video to HD, convert 2D movies and photos to 3D movies and photos, and reduce video noise. When you convert 2D to 3D, a simple Scene Depth slider lets you manually dial in the effect until it suits your taste.
In the mood to share? PowerDVD links to MoovieLive.com, a community site hosted by CyberLink where you can rate and comment on films you've watched. You can also create MovieMarks; that is, while you're watching a DVD or Blu-ray, you can bookmark scenes and comment on them. PowerDVD takes a screenshot of the scene along with your comment. When you hit a Share button, your Moviemarks are uploaded to MoovieLive.com where other users can read them. You can let your Facebook friends and Twitter followers know you've written a new review by simply clicking a button.
I was so fired up about this CyberLink's media player that I had to take a detour from my usual focus on creating cool homebrew videos. Next time we'll return to that subject and take a look at PowerDirector's particle effects. These powerful video effects let you add animated star bursts, fire, snow, and other cool stuff to your home movies.
This story, "Watch or listen to anything using CyberLink PowerDVD" was originally published by BrandPost.