Samsung SH100: $200 Cam Uses a Phone As a Remote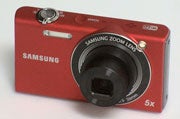 On many levels, the Samsung SH100 is your average $200 point-and-shoot. But it also has a secret weapon. You can use a Samsung Galaxy S or Samsung Galaxy S2 Android phone as a remote viewfinder to control the SH100 wirelessly.
For comprehensive coverage of the Android ecosystem, visit Greenbot.com.