What's one thing restaurants, Web sites, and DVD movies all have in common? Give up? Menus! Without menus, we wouldn't be able to, well, get to all the good stuff! For the last couple of posts, I've been talking about how to create your very own movie DVD using Cyberlink PowerProducer. Today I'm going to walk you through creating a menu. You'll need one so users can see what's on your disc, jump to specific scenes in your video, and even watch bonus materials – just like a Hollywood DVD!
The "movie" I've been working on is a DVD of my daughter Alia's wedding. A 15-minute video of the wedding is the main feature, and a couple of photo slideshows are my bonus features. Today I am ready to wrap it all up and add the finishing touch, a wedding-themed menu.
PowerProducer conveniently comes with 10 sets of menu templates, which are pre-built menus you can easily modify to suit your project. Each template set includes a main menu, the first one that pops up when you insert the disc, and submenus for jumping to specific scenes in your video and playing your photo slideshows.
If you don't find what you're looking for among the canned menus, PowerProducer includes a link that takes you to DirectorZone.com, CyberLink's user community site, which is packed with templates you can download free. I found a couple of awesome wedding menus there, but they featured church scenes. Alia's was an outdoor affair, so I went with the wedding-themed menu template that comes with PowerProducer.
Double-clicking the menu you want loads it into a preview window. Then you can start editing the text. To adapt the wedding menu to my project, I changed "My Video" (the generic text used in all of the menu templates) to my oh-so-clever title, "Alia & Patrick's Wedding." I then used the text editing tools to change the font from the default of Times Roman to Gabriola, a typeface with a nice, clean modern look. Editing and changing the font, style, and size of text in PowerProducer is just as easy as it is in a word processor.
Many commercially released DVDs and Blu-ray discs feature "motion menus" — menus that include animated or moving elements. For example, instead of thumbnails, the disc might use short video clips that cycle or loop from start to finish. PowerProducer 5.5 supports motion menus. Even cooler, the menu template I'd chosen automatically played a short portion of the first video file I imported. I was loving this effect until I realized the clip started at the frame I set as the clip's thumbnail — and played through the end credits. And the credits were in a font that clashed with the menu's font. I quickly chose a new thumbnail from a scene that took place earlier in the video, and voila! Problem fixed.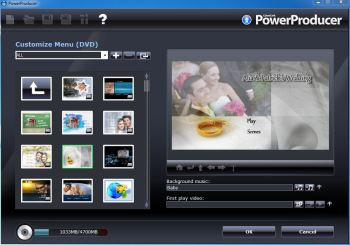 Another way Hollywood DVDs set the mood is to play music when they display menus. For my background music I chose a couple of instrumentals from my iTunes library that a friend of mine recorded. Adding them to my menus was simple: I located the music files on my hard drive, imported them into PowerProducer, and used the Background Music tool to trim each track, adjust its volume, and set the music to fade in or out and to automatically repeat. Easy peasy!
Finally, to give my DVD a polished, consistent look, I applied the same text styles and used sections of the same music track to my chapter and slideshow menus as I used for the main menu. When I finished with all that, I burned it onto a DVD.
PowerProducer automatically converts video, sound, and slideshows to the formats required by the type of disc you're burning; for example, you don't have to know that AVI videos need to be converted to VOB files for burning to a DVD. PowerProducer even calculates how much space is available on your disc and then adjusts the format conversion to get the best possible video quality. And it does all that pretty quickly, because PowerProducer runs on the latest Intel Core processors with Intel Quick Sync Video hardware-accelerated media processing.
Next time, we're going to switch gears a bit and look at another CyberLink product, PowerDVD 11 Ultra, a universal media player that plays Blu-ray and 3D Blu-ray content, enhanced Web video, and lots more.
This story, "How to add cool menus to your home-cooked DVD " was originally published by BrandPost.