Putting your home videos on a DVD or Blu-ray disc is a great way to share them with people who haven't jumped on the social networking bandwagon yet — people like my parents. My folks aren't on Facebook and they don't own a smartphone. However, they do have HDTVs and DVD players all over the house. To them, a DVD with photos and videos of their grandkids is heaven on a platter. So I decided to use CyberLink PowerProducer 5.5's easy-to-use authoring tools to create a DVD of my eldest daughter's wedding.
The centerpiece of my project was a professionally shot video stored on a DVD. My plan was to copy this video and combine it with a bunch of still photos from my hard drive.
Luckily for me, PowerProducer accepts a plethora of video formats, including VOB (Video OBject) files, the format used by DVDs. Using Windows Explorer, I simply located the file on the DVD, selected it, and imported it. As you can imagine, it was a big file, so even my superfast laptop took a couple minutes to copy it from the disc onto my hard drive.
Next, I imported my photos into PowerProducer. The program's helpful disc capacity display told when my selections reached the limit of a DVD's capacity. (My folks don't have a Blu-ray player, so there was no point in burning a higher-capacity HD disc for them.) Now it was time to do some video and photo clean up.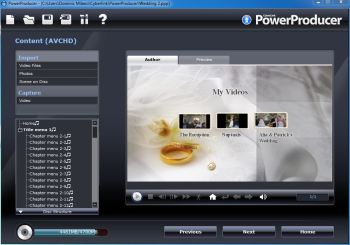 My daughter's videographer, Marc Donahue, recently was voted the best wedding videographer in the San Francisco Bay Area, so there wasn't really anything to "fix" in his video. However, to free up a little space on the DVD, I trimmed the first few seconds of the opening promo for Marc's company, Permagrin Films. (Sorry, buddy.) The AB Cut feature makes this kind of thing easy. Just position the video playhead to where you want the new start or end time, then press a button.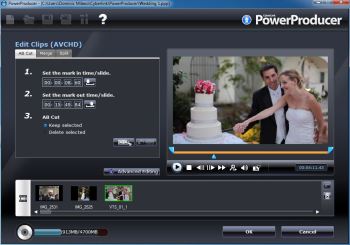 After trimming the video, I set to work on the photos. I decided to create two slideshows, one using shots of the bride and groom saying "I do," and the second showing the wedding party's grand entrance to the reception. The Photo Slideshow tools let me adjust the amount of time pictures stayed on the screen, set background music, and decide whether I wanted the program to automatically add that Ken Burns effect — zooming in and out while slowly panning across each picture. I also had a slew of cool transitions to choose from. (Transitions, you'll recall, are what happens when the slideshow switches from one photo to the next.) PowerProducer offers a bunch of wipes, dissolves, page flips and turns, ripples, and more.
For the "I do" slideshow, I played around with a few transitions before settling on one called Burning, which makes each successive picture sizzle away in flames to reveal the next.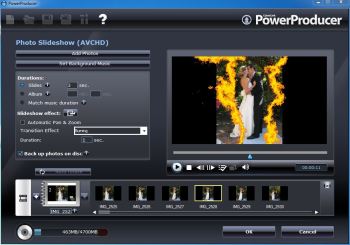 The second slideshow needed a little editing help. A photo of the newly married couple walking into the reception room was washed out. So I clicked the Advanced Editing button, which launched PhotoNow!, a photo editing program that comes with PowerProducer. In a single click, I tweaked the shot's contrast. When I closed PhotoNow! and saved the changes to the picture, PowerProducer automatically reopened. The changes made in PhotoNow! showed up in the slideshow automatically, too. Woot!
Have I mentioned that I was able to preview all these effects, transitions, and trims while I was tweaking them? That's because PowerProducer takes full advantage of the hardware-accelerated media processing technology called Intel Quick Sync Video that's an integral part of the second-gen Intel Core i7 CPU in my laptop.
Every commercial DVD includes mood-setting background music. Next time, I'll talk about adding these elements to your DVD.
This story, "Grandma not online? No sweat. Share photos on DVD with PowerProducer" was originally published by BrandPost.