Ever admired the look of a DVD and Blu-ray movie? I mean, those things are fancy! They open with music and background videos, have elaborate menus, and let you jump straight to specific scenes and bonus features.
Believe it or not, you, too, can make a movie disc that looks like it came straight out of Hollywood. You can burn your own videos, music, and still photos to a DVD or Blu-ray disc and add many of the same professional flourishes you see on commercial discs. Let's take a look at how to do it using PowerProducer 5.5, CyberLink's affordable and easy-to-use DVD and Blu-ray Disc authoring software.
To become a movie-disc-making mogul, you need a PC that can burn discs. (To create Blu-ray Discs, that PC will need a Blu-ray burner. For video CDs and DVDs, a standard DVD burner is fine.) If your PC is outfitted with a second-generation Intel Core i5 or i7 processor, that's even better. Both of processors include Intel Quick Sync Video (Intel QSV) and Hyper-Threading technologies to speed up PowerProducer's disc authoring process. PowerProducer 5.5 is optimized to take advantage of these technologies, saving hours of production time without sacrificing an iota of image quality.
To get started, launch PowerProducer, import your videos and select a format for the disc you want to create. Let's take a quick tour of the options. DVD and Blu-ray are the two you'll probably rely on most. Another format that might come in handy is AVCREC (Advanced Video Codec RECording, a variant of Advanced Video Codec High-Definition, or AVCHD, the format used by Blu-ray Discs and many popular camcorders). AVCREC is a really cool option for people who don't have Blu-ray burners, because it lets you put high-definition Blu-ray movies on standard DVDs - which you can then play in a Blu-ray player and watch on an HDTV. I don't have a Blu-ray burner, but I have lots of HD videos, so AVCREC is da bomb in my book.
Finally, there's the Video CD format, which dates back to the days before DVD burners became common. As you might have guessed, this option lets you put video on a CD.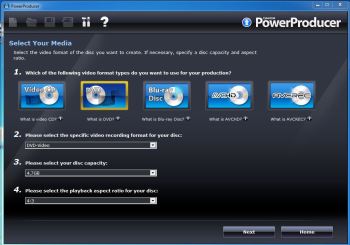 Choose a format, import your videos into PowerProducer, and you're ready to choose a user interface for your content. PowerProducer comes with slick looking menu templates you can easily customize. If nothing there suits you, click on a button to go straight to DirectorZone.com, where you'll find a zillion free, downloadable menus designed by other users.
Another key ingredient in Hollywood DVDs is links that let you jump to specific scenes or chapters. PowerProducer can automatically extract chapters from your videos, or you can set them manually for more control. Chapters appear as thumbnails in your menus. Clicking on them takes you straight to the scene they correspond to. Slick!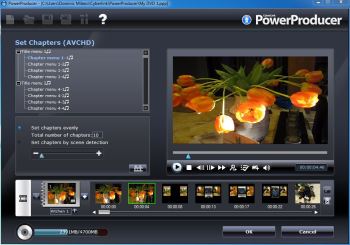 Before burning a disc, you might want to clean up your videos a bit. PowerProducer comes with a handful of essential video editing tools that do things like trim clips and add simple transitions. For more advanced editing, you can click on a button to launch PowerDirector Express, a more powerful video editor included with PowerProducer.
You can also bring photographs into PowerProducer and use its Photo Slideshow tools to produce great looking presentations complete with transitions and background music.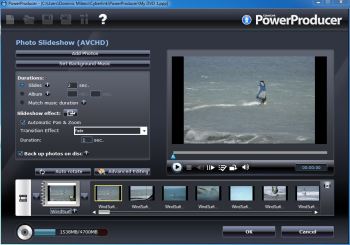 Having finished the preliminaries - selecting a disc format, choosing a user interface, editing clips, adding audio and effects, customizing menus - you're ready to burn a disc! PowerProducer automatically converts your video, sound, and slideshows to formats required by the type of disc you've selected. For example, if your video files are AVI and you've selected the Blu-ray disc format, the program will convert the videos to AVCHD.
And because PowerProducer runs on the latest Intel Core processors with Intel QSV hardware-accelerated media processing, all this processing happens pretty fast. While QSV tackles the format conversions, each processing core in your PC (think of a core as a separate brain) is free to tackle other tasks like rendering menus and chapter links and processing transition effects. It took me about 15 minutes to burn a DVD with 2.5GB of content consisting of a few HD movies and slideshows with effects and background music. Not bad!
OK, let's say you're not impressed by the fancy menus, bonus materials, and chapter links you get with DVDs and don't care to replicate them. No problem. PowerProducer's Right-to-Disc option lets you connect your camcorder, VCR, webcam, or TV to your computer and record directly to a DVD or Blu-ray Disc. Extremely handy.
Next time, we'll dig a little deeper into PowerProducer and take a closer look at some of its most noteworthy menu, video editing, and slideshow tools.
This story, "Cyberlink PowerProducer satisfies the burning desire to make a blockbuster movie" was originally published by BrandPost.