Livescribe's Echo Smartpen Gets Social and More Connected
Livescribe Echo Smartpen

The latest addition to the Livescribe smartpen family is sleeker, better-looking, and has more memory than its predecessor. New tricks include password protection, an app store, and the ability to...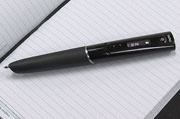 Livescribe's Echo smartpen has been revamped to include shortcuts for sending notes to popular Web services, such as Facebook and Google Docs. The entry-level 2Gb version now costs $99, and the new line of pens features the ability to make interactive "pencast" PDFs that animate recorded handwriting and synced audio.