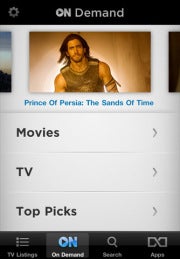 Comcast is bringing more of the small screen to even smaller screens. The cable giant's Digital TV subscribers can now use the Fancast Xfinity video-on-demand streaming service on their iPhones and iPod Touches via the Xfinity app, so long as they're connected to Wi-Fi.
Comcast claims over 4,500 hours of content are available for streaming to compatible iOS devices, including everything from Glee to True Blood (for HBO subscribers). The service has been available on the iPad for a few months now, while the iPhone and Android apps have only been able to be used as remote controls and DVR controllers for certain set-top digital boxes. Comcast has said in the past that it plans to bring on-demand functionality to the Android app, as well.
Users who download the iPhone version 1.5 should now have the capability to stream directly, but only over Wi-Fi; there's no word on compatibility with 3G or 4G connections in the future.
Some problems have been reported, both on iTunes and in other forums, of the new version crashing almost instantly, but the problems don't seem to be widespread. Xfinity support said on Twitter that a re-install should fix the problem.
The move to the smallest of iOS screens, which are still far more widespread than iPads, puts Comcast ahead of other cable and satellite competitors, and on track to play on the same field as Netflix-it was revealed this week that the streaming giant makes up almost a third of peak net traffic in the US.
This story, "Comcast Brings On-Demand Streaming to the Smallest Screens" was originally published by PCWorld.