Having whipped up a short video of my kitchen remodel using CyberLink PowerDirector 9, it was time to show it to friends and family. To do that, I needed to convert — "transcode" in geek speak — the video from the format it was shot and edited in to a format that would play on the devices my peeps were likely to want to watch it on: iPhones, Androids, iPads, and online.
One of the great things about PowerDirector is that it lets you get things done without having to speak the jargon. On the other hand, if you feel like basking in techno-babble, it lets you do that, too. Here's what I mean.
To convert a video in PowerDirector, all you have to know is a) what your audience is going to be watching your videos on, and b) whether you want to send out low, medium, or high-quality video. (Right now you might be wondering: Why not always make a high-quality video? Because, ironically, the better the quality the bulkier the video and the more likely people are to experience delays or problems watching it, especially on cell phones. Medium quality or lower is perfectly fine for quickly sharing non-professional clips.)
PowerDirector makes conversions painless. I just clicked on Produce and the type of gizmo that I wanted to be able to play my video — the choices are File, Device, YouTube Ready, or Facebook. I didn't want the whole world ogling my new kitchen, so I went with Device, which further presented these options:
A few camcorder formats (DV and HDV tape-based video cameras or HDD camcorders that record on memory cards, hard disk, or on DVD)
Blackberry, Google, LG, Samsung, Sony Ericcson, and Microsoft smartphones
Apple iPod/iPhone or iPad
Sony PSP and Walkman
Microsoft Xbox 360 and Zune.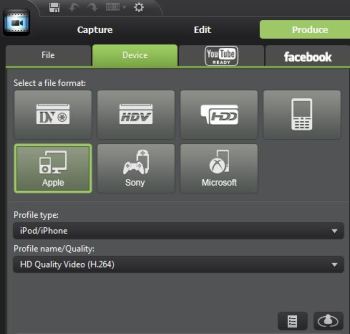 My kids all have iPhones, so from here I chose Apple iPod/iPhone and opted for the highest quality setting, HD Quality Video (H.264). And here happens to be a perfect example of how well PowerDirector protects newbies while indulging video gearheads like me. You don't have to know what H.264 means to get great results. But if you get as excited about the latest video formats as I do, you'll love being able to click to see all the technical details behind settings like this one. (FYI, H.264 is a very popular, highly efficient compression technology also known as MPEG-4 AVC.)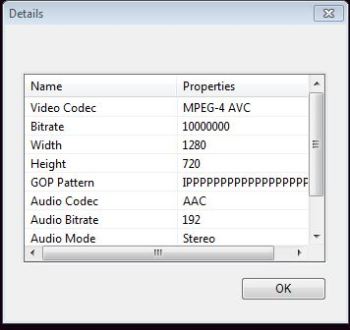 The program also made it easy to save my videos in YouTube and Facebook-friendly formats. It even let me log in to my YouTube account directly from PowerDirector without having to fire up a Web browser. Slick!
Better still, PowerDirector lets you convert a gaggle of files to one or more different formats, all at once. (CyberLink calls this time-saving process a batch production; other video software packages call it batch encoding or background batch encoding.) You just choose File > Batch Produce and start adding projects to a queue.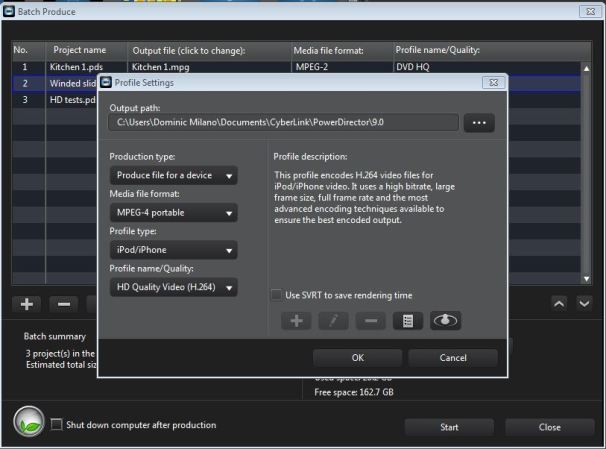 Converting videos on my Intel Core i7-equipped laptop was super fast. Saving my short kitchen video to one format literally took seconds. Out of curiosity, I also tried the batch option. I put my kitchen video and a few other projects into PowerDirector's batch converter, set each to a different format at its highest quality setting, and pressed Start. I opened the Windows utility for monitoring CPU usage — and barely had time to notice that most of the eight processor cores in my laptop's Intel Core i7 chip were being used before the job was done. The whole batch took under a minute!
It's that fast because PowerDirector 9 has been tuned and optimized to tap into the integrated media processing built into 2nd generation Intel Core i7 — and i5 — processors. Intel calls it Intel Quick Sync Video. PowerDirector also takes advantage of built-in Intel Hyper-Threading and Intel Turbo Boost. That means the software makes use of all of the available processor cores and threads (think of multi-threaded cores as calculators that can do two things at once), and when the computing challenge gets particularly intense, the processors can actually speed up. Bottom line: these new i7 and i5s are significantly faster than previous generation of Intel Core processors.
Next: Creating a music video using old band photos and a live recording.
This story, "Sharing is easy to do" was originally published by BrandPost.