HTC Droid Incredible 2: Great, But Where's the 4G?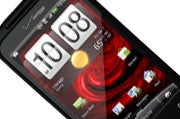 The HTC Droid Incredible 2 for Verizon is a fantastic upgrade from its predecessor in terms of its display, design, and camera, but it lacks 4G support and doesn't run the most recent version of Android.
Product mentioned in this article
(1 items)
For comprehensive coverage of the Android ecosystem, visit Greenbot.com.