Anyone who has taken a picture knows there are two basic ways to frame a shot: horizontally (a.k.a. landscape) or vertically (portrait). The thing is, when you shoot video vertically — which is easy to do by accident when using a video-capable camera, phone, tablet PC, or other gadget — it plays sideways on your monitor. You have to tilt your head to watch. Not good!
Fortunately, CyberLink PowerDirector 9, which I just installed on my new laptop, can handle goofs like this, not to mention the plethora of consumer video formats out there. Case in point: I shot some clips of my newly remodeled kitchen with a couple of different cameras, both brand-new and older model. Some were HD. Some weren't. And I accidentally shot some of the clips sideways. Holy moley.
PowerDirector didn't blink. It wrangled my mixed-format footage with different specs and righted my topsy turvy videos. I won't bore you with all the details, but here's how it worked.
I figured the first challenge would be getting my patchwork footage into PowerDirector. I had shot some of the video on a camcorder that recorded onto a DVD. When I put the disc in my DVD drive, PowerDirector recognized this footage easily. Cool. As for the still cameras, PowerDirector did not recognize them — but no problem. I simply dragged the files onto my desktop, copying them onto the hard disk. From there, importing them was a snap. I stuck everything in one folder and the PowerDirector media library accepted the whole thing in a single operation. Double cool.
And the sideways clips? The former art director in me immediately thought of using the picture-in-picture effect to finesse this problem. Most people encounter the magic of PiP when watching two TV channels at once (one of them in a little box). But in PowerDirector, PiP lets you place clips side by side and play them simultaneously, kind of like one of those huge video walls at the mall. I scaled and rotated my clips to place them side by side and voila, they were properly reoriented in a cool PiP presentation.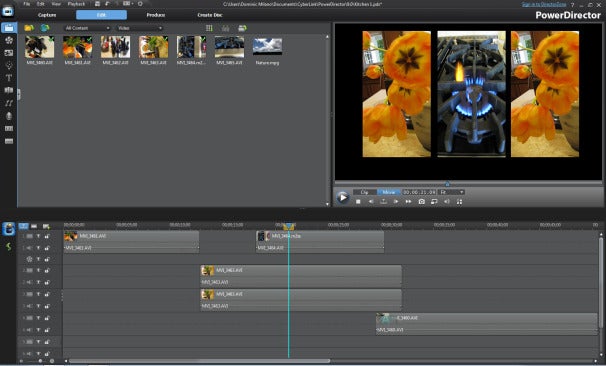 The final bit of magic: I watched the whole thing while working on it. Just a few years ago, watching multiple clips while editing meant that you had to prebake — or preview render — before you could see your tweaks. Depending on the complexity of the project, this could take hours. It also usually required pricey high-end video software and hardware.
Thankfully, PowerDirector 9 is optimized to take advantage of some really awesome technology built into the latest Intel Core processors. (Remember, I bought my new second-gen Core i7 laptop for precisely this reason.) Core i7 and i5 processors include a chunk of silicon that's dedicated to making video look good and handle fluidly — while it's being tweaked, played, and converted to formats that can be viewed online and elsewhere. Thanks to all that Intel video goodness, PowerDirector played my multiple tracks of HD video, standard-definition video clips scaled up to HD resolution, complete with transitions; a few still pictures; and a soundtrack, all without rendering. I didn't even have to spend hours digesting a manual or wrestling with the technical mumbo jumbo typically associated with putting HD and SD footage into the same video project. Have I mentioned how cool that is?
PowerDirector made it easy to show off the video of my new kitchen hardware and hardwood. I'll talk about that next time. Stay tuned.
This story, "Turning video on its side" was originally published by BrandPost.