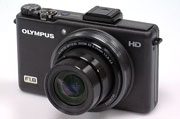 With an F1.8 lens, a full array of manual controls, and some creative in-camera extras, the Olympus XZ-1 is a very versatile camera. Though not the easiest one for novices to use, it will reward those who get to know it.
This story, "Using the Versatile Olympus XZ-1 May Take Some Practice" was originally published by PCWorld.
At a Glance
Generic Company Place Holder Olympus XZ-1 Compact Camera

TechHive Rating

The Olympus XZ-1 is a manual-oriented camera with great optics, but its autofocus and exposure levels are weak spots, and it's not entirely novice-friendly.
Shop Tech Products at Amazon