Casio Tryx: A Unique Shape-Shifting Camera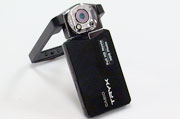 Casio's Tryx camera has a unique, shape-shifting body that and can be twisted into a number of shapes to aid with different shooting situations. The camera's 3-inch touchscreen LCD swivels and rotates, and the edges of the camera turn into a 360-degree rotating frame that can support the camera like a kickstand or be used as a grip for both left-handed and right-handed shooters.
For comprehensive coverage of the Android ecosystem, visit Greenbot.com.