Casio Tryx: A Unique Shape-Shifting Camera
Casio Tryx (black)

$152.00

Amazon Shop buttons are programmatically attached to all reviews, regardless of products' final review scores. Our parent company, IDG, receives advertisement revenue for shopping activity generated by the links. Because the buttons are attached programmatically, they should not be interpreted as editorial endorsements.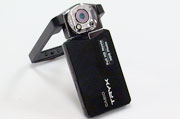 Casio's Tryx camera has a unique, shape-shifting body that and can be twisted into a number of shapes to aid with different shooting situations. The camera's 3-inch touchscreen LCD swivels and rotates, and the edges of the camera turn into a 360-degree rotating frame that can support the camera like a kickstand or be used as a grip for both left-handed and right-handed shooters.