If you're not satisfied with the camera in your cell phone and you prefer to keep something better around, that device needs its own special care, too. First, you'll want to start by cleaning the LCD view screen:
As a safety measure, remove your camera's battery. If the battery cannot be removed, turning off the device will suffice.
Wipe the screen gently with the dry cloth. Don't press hard on it, but for particularly stubborn dirt you can apply some gentle pressure.
If a dry cloth doesn't do the job, you'll need to use a wet one--and that can be tricky. Distilled water is the safest and cheapest liquid for a screen. If that isn't strong enough, mix it half-and-half with white vinegar.
Put the liquid into a spray bottle, and spray it onto the microfiber cloth.
Wipe the display as described above, and then wait until the screen is completely dry before turning the device back on.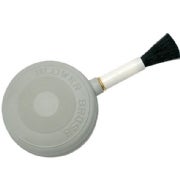 However, in a camera, cleaning the LCD is the secondary cleaning job. Your photos don't really depend on a clean menu screen, but they certainly rely on a clean lens:
The first tool you'll need is a blower brush: a rubber bulb with a brush on the end. Use this to remove the bulk of the dust. If that doesn't do the trick, use a photographic microfiber cloth and some lens cleaner. Spray the cleaner on the cloth and apply it that way. You can pick up all of these items, often in a kit, in any photography store.
If you have a pocket camera, you'll notice something that keeps you from cleaning the lens--it's enclosed inside the camera. That means you have to turn on the camera to clean the lens.
You won't need to turn on your digital SLR to clean its lens, but it has another component that you might want to clean from time to time: the sensor. Because you can remove and change the lens on an SLR, dirt can get inside and affect the light-sensitive chip that records the images (not a problem with fixed-lens pocket cameras). This is a delicate and dangerous job, and you should think carefully about undergoing it (I've never tried it myself). Check out "Clean Your Digital SLR Camera's Image Sensor" for detailed instructions. If you think you're not up to the task, bring your camera to a professional.
Cameras can get pretty badly banged up as you carry them around, so investing in a carrying case will help keep it protected. The best cases for pocket cameras aren't much bigger than the camera itself, and have loops to attach to your belt. Serious SLR photographers will want a padded shoulder bag with room for extra lenses as well as the camera. No matter the size of your camera, you'll want a case with a few small pockets for extra batteries and memory cards.
If you need to swap out batteries or memory cards, be sure to turn your camera off before opening it up to remove or replace any inside component.
After you get home from a vacation or other photo-friendly event, and you transfer your photos from your camera to your computer, remove the camera's batteries. That way, should an aging battery spring a leak, it won't ruin your camera.
For more detailed DSLR camera cleaning tips, check out "Clean Your Dirty Camera."
This story, "How to Clean Your Camera" was originally published by PCWorld.