After my initial "Whaaaaat?" reaction to Dish Network's $320 million bid for what's left of Blockbuster Video, I started to imagine what the satellite TV provider might do with Blockbuster's assets. The result could be fun for entertainment addicts and gadget fans.
I predict Dish will use the best Blockbuster locations to demo and sell its cool TV-everywhere technology like Slingbox and GoogleTV , which have been a tough sell to Dish's 14.1 million price-conscious customers.
Remember the month-long Fox Networks' blackout on Dish last fall? National Geographic, FX and Fox Sports Networks went dark for a month during football season, and angry Dish subscribers bailed in droves. By hooking up with Blockbuster, Dish acquires leverage with the studios to get the shows and movies customers want - at the bargain-basement price it demands.
Pivotal Research Group analyst Jeff Wlodarczak wrote in a research note that "Blockbuster's roughly 1 million DVD mail-order customers and its robust online business could lead to a Netflix-like product for Dish and non-Dish customers."
Here's the context: Dish, which added just 33,000 subscribers in 2010, admits that it wins customers by cutting prices, luring away eyeballs from DirecTV and cable. Dish and its sister company, EchoStar, are hoping that next-generation technology and exclusive content will keep subscribers loyal, but Dish execs admit it's been a tough sell, according to Broadcasting & Cable.
EchoStar owns Sling, which gives Dish customers exclusive access to Slingbox tech that lets people watch their pay TV channels and DVR recordings from any Internet-connected device. Reviews have been great, but Dish has been strangely silent about sales.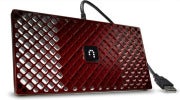 But Sling has huge potential. If you like your local news while on the road, want to watch the Glee episode you recorded, or paid $179 for an NBA League Pass, you can now access that content on an iPhone on the subway, in the Shanghai airport, or on the TV in your beach house.
GoogleTV mashes up Internet and TV functionality, using the Logitech Revue. Dish was first to offer GoogleTV and sells the Logitech box at a discount ($179, down from its $299 MSRP). Android users can install apps on their mobile phones to watch live TV, or surf the Web for online content on their big screens. In the Dish Network product, your DVR recordings and On Demand movies come up in GoogleTV search results.
Did you know about TV Everywhere? Probably not--it's a tough sell at installation or over the phone with an underpaid service rep. Will Dish benefit from a storefront that lets potential customers play with their cool new toys on various devices--like Apple Stores for couch potatoes? Time will tell.
This story, "Dish-Blockbuster Deal Could Allow Us to Admire Their Cool TV Tech in One Place" was originally published by PCWorld.