Clean Up Your Cables, Home-Theater Edition
Setting up a home-theater system can be expensive and time consuming, so you want the finished product to look pretty darn awesome.
Unfortunately, one aspect of home-theater setup tends to get overlooked: cable management. What good is a sexy new HDTV and attractive, modern-looking speakers if your living room is overrun with unsightly wires? The last thing you want is for your slim, wall-mounted HDTV to look like an octopus because of all the cables trailing down.
The easiest way to pretty up your home-theater system is to organize and hide its cables. Options for hiding your existing cables (rather than doing away with them altogether) range from simple zip-tie organization to under-the-carpet snaking to behind-the-wall wiring.
Organize Your Cables
If your home theater isn't too high-tech--for example, if your HDTV sits on a console table instead of being wall-mounted--you may just need to do some organizing. Nixing cable clutter will make your peripherals easier to manage, and it'll make everything look a little more organized if (God forbid) one of your house guests happens to check the behind the TV.

For open-back console tables:
1. Use cable ties to bundle your cables together. These can be simple zip ties ($3, Best Buy), or cute cable accessories like the Sarut Group's bendable cable monkey ($5, ThinkGeek) and alligator ($7, Amazon). Try to bundle audio cables, visual cables, and power cables separately for more coherent organization and to avoid audio/visual interference.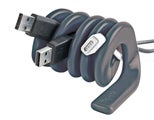 2. Use cord catchers to prevent your cables from falling behind the table when you unplug them. You can make cord catchers yourself using thick binder clips, or you can purchase individual catchers (such as the Cord Catch, $7, OXO) or multiple catchers (such as the Cordies Classic, $10, Quirky).
For solid-back cabinets:

1. Use cable tacks ($2, various) to trap your cables against the back of your cabinet. Cable/wire tacks are a cheap and easy to use (you'll need a hammer or a cable tacker, $17, Sears), though you ought to have pretty clear idea of what should go where before you start punching holes in the back of your furniture.
2. Screw hooks ($30/24, various) into the back of your cabinet and loop extra-long cables around the hooks. Be sure to use enough hooks to avoid creasing the cables.
Hide Your Cables
Want to put your home theater somewhere far away from an outlet? Instead of haphazardly stringing cables along the wall, cleverly hide them by running them along the ceiling, behind the furniture, or underneath the carpet.
1. Use cable raceways to hide and neaten cable tracks. Cable raceways aren't exactly hidden themselves, but they do hide unsightly cables and provide a clean, finished look. You can paint them to blend in with the wall or trim that you lay them against.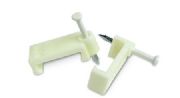 2. Use cable tacks along the ceiling or the floor. If you adopt this approach, it's best to lay down the cable before you put in the furniture, so you can lay the cable neatly along the floor or the ceiling. Be sure to buy the correct type of cable tack for each of your cords--flat cable tacks, for example, will pinch and damage round cords.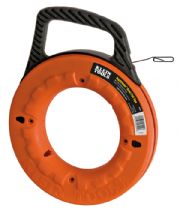 3. Hide cables under the carpet. Again, it's best to do this before you put any furniture down. The easiest way to hide cables under the carpet is to use a steel fish tape tool ($35, CableOrganizer) to pull the cable from one side of the room (where your entertainment center is set up) to the other (where your cable emerges from the carpet to connect to the electrical outlet).
This is easier than it sounds, even if you've never used fish tape before: gently pull up the carpeting where the cable will enter (about 2 inches of carpeting), and gently pull up the carpeting where the cable will exit. Starting from the "exit" side, slide the fish tape loop beneath the carpet and the padding, and slowly push it toward the "enter" side. Once the fish tape reaches the "enter" side, draw the loop out from beneath the carpet/padding, and loosely tie your cable to the loop. Then slowly pull the fish tape and cable back toward the "exit" side.
Hide Your Cables Behind a Wall
If your HDTV is wall-mounted and you want to maintain a minimalist look, cleverly hiding cables will take you only so far. Aside from going wireless (see below), the best way to make cables disappear is to park them inside the wall.
Unfortunately, unless you're particularly savvy with in-home wiring, it's best to leave this type of work to skilled professionals. "Let me put it this way," says Tom O'Connor, of Palo Alto-based O'Connor & Sons Electric, when I asked him for advice on do-it-yourself electrical work, "About 80 percent of my work is fixing other people's mistakes. It's not brain surgery, sure, but I went to four years of school for this. What seems easy on paper can be tricky in the real world, especially when there are wires and a $3000 HDTV involved."
The good news is that professional electric work is not a break-the-bank expense, and it will certainly cost less than your home-theater setup. O'Connor & Sons Electric charges $125 per hour and says that most HDTV jobs take about 2 hours. Todor Georgiev of San Francisco-based ElectroIntegrity says that jobs can cost as much as $850 depending on the type of wall. "Imagine an old plaster wall, 2x3 studs, old knob and tube wiring, and a $3500 TV--not good," Georgiev writes in an e-mail message, "In that case, it's necessary to brace up that section of wall before installation."
Ultimately, the cost of hiding cables in a wall depends on where you want to put your TV, how your house is built, how many components you have, and where they'll be located. Gus Kanakis of San Jose-based Anchor Electric suggests consulting your local electrician and exploring options based on budget, tolerance for construction disruption (taking down drywall, for example), and building type.
Going Wireless
Instead of spending all that time and effort hiding cables, why not just go wireless--or mostly wireless, anyway? Wireless home-theater kits, whether they offer cord-free sound or visual content, are never truly wireless. But they do eliminate most wires, and it's easier to hide one or two wires and boxes effectively than to hide six or seven.
Wireless HD
Streaming high-definition video content over the airwaves with little to no lag time was once a pipe dream, but these days several wireless HD home theater kits let you have your high-def without the wires.
For this article I tested the Philips SWW1800/27 Wireless HDTV Link ($350, Amazon); two other available wireless HD kits are the Rocketfish RF-WHD2400 4 Port Wireless HD Kit ($140, Amazon) and the Ethereal HDMWL1 Wireless HDMI Kit ($350, Firefold).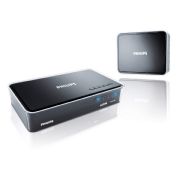 The Philips "Link" HD Kit comes with a large transmitter box, a smaller receiver box, a remote control, power adapters, and an HDMI cable. Setting up the kit is simple: You plug your peripherals (cable box, Blu-ray disc player, Xbox 360, and whatever else) into the large transmitter box (which has two HDMI connections and two component connections), plug the box into a power outlet, and hide it somewhere. Then plug your HDTV into the smaller receiver box, plug that box into a power outlet, and voilà! Your setup is as wireless as it's going to get.
The Philips Link works very well. I didn't notice any lag, even from a room away. Picture quality and sound quality were good--the picture was ever-so-slightly softer than when viewed over a wired connection--and I detected no interference or signal loss in my tests. Overall, the Link worked better than I thought it would, except for one thing: Unless your peripheral boxes are HDMI-CEC compliant, you can't really hide them. My DVD player, for example, has an infrared remote control, so I can't put it in a closet or a cabinet, because I need line-of-sight in order to change the channel. If you have infrared-controlled boxes, buying an IR-to-RF (radio frequency) converter ($50, SmartHome) will take care of the line-of-sight issue.
Stream Media from Your PC to your HDTV
Various set-top boxes (such as Apple TV and Roku's Netflix box) let you stream internet content on your HDTV, but most of them won't let you stream local PC content on your HDTV (unless, of course, you hack them).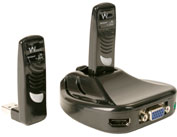 Luckily, you have other options, including next-generation set-top boxes and wireless streaming PC-to-HDTV kits. I tested the Warpia Wireless USB Audio and Video PC to TV Kit ($120, Amazon). Other options are the Veebeam HD Wireless PC to TV Link 1080p ($150, Amazon) and the IOGear Wireless HD Computer to TV Kit 720p ($180, Micro Center).
The Warpia Wireless USB Audio/Video PC to TV kit includes two USB adapters (one of which plugs into your computer, while the other sits in the Warpia dock), a power cord, and a dock with HDMI and VGA inputs, as well as a 3.5mm headphone jack. Setup is quick and simple, though updating the firmware can be a little time-consuming. Once you've updated the firmware on the PC adapter and on the device adapter, just plug the PC adapter into a USB port on your PC, plug the device adapter into its A/V dock, and plug the dock into your HDTV via VGA or HDMI--and you're done.
After tweaking a few settings on my PC (disabling my extra screens and adjusting the resolution to 720p output), I could view my computer's desktop on my HDTV. Pictures looked good on the screen output, but other multimedia--including DVD and streaming video--lagged a little and generally looked choppy. I also found the Warpia's signal to be pretty weak. To achieve a smooth stream, your PC must be in the same room as the HDTV and have direct line-of-sight.
Though the wireless PC-to-HDTV kit is a nice idea, the Warpia kit ultimately seemed rather pointless. Even when my PC was in the same room as my HDTV--close enough, in fact, that I could have connected it to the TV with a short HDMI cable--the signal remained somewhat weak and unreliable.
Wireless Speakers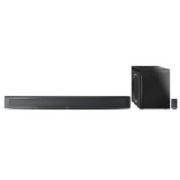 Perhaps the most popular wireless accessory for home-theater systems is a wireless speaker kit. Like other wireless accessories, wireless speaker kits aren't 100 percent wireless; but they certainly use fewer wires than do regular wired speaker kits.
Most wireless speaker kits have only a few wireless pieces--the rear speakers and in some instances the subwoofer. The Sony HT-SF470 ($450, Sony) features 5.1 surround sound with two wireless home speakers. The Panasonic SC-HTB500 Sound Bar Home Theater System ($305, Amazon) features 2.1 sound output with a wireless Kelton Subwoofer.

You can also save a little by purchasing a full home-theater kit, instead of just the speaker system. The Sony 3D Blu-ray Home Theater System ($530, Sony), for example, offers 5.1 surround sound with two wireless rear speakers, while the Samsung HT-C6930W ($850, Samsung) features a 3D Blu-ray disc player and 7.1 surround sound with wireless rear speakers.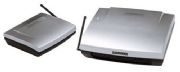 There's also the option of turning your existing home theater speaker system into a wireless system, by using a wireless module. The Kenwood RFU-6100 Wireless Module for Surround Speakers ($300, Amazon), has a transmitter and receiver, and works similarly to a wireless HD kit: Your speakers plug into the transmitter, and your HDTV plugs into the receiver.
Thpugh wireless speakers--especially rear speakers--are definitely an option, you should be aware of the potential for radio interference. Most models use a 2.4GHz frequency, which is the same frequency that microwave ovens (which use a 2.45GHz frequency) and other appliances run on. You can avoid interference by changing the frequency channel on your wireless speakers (not on your microwave).
Whether you choose to go as wireless as is technologically possible, or to pull up your carpeting and hide all of your unsightly cables beneath it, your home-theater system should look a little less DIY--and a little more professional--as a result. Even if you make do with zip ties and cable monkeys.