10 Netflix Power Tools: Optimize Your Viewing Experience
There's more to Netflix than just streaming video and DVDs by mail. If you want to make the most of your subscription, you need to branch out from the Netflix site and check out some third-party tools and services. They'll help you find movies you like, manage your queue on the run, delve deeper into the Watch Instantly library, and much more. Best of all, the majority of them are free. Here are ten we really like.
FeedFliks: Is Netflix worth the money? Or would you be better off with, say, your local Redbox kiosk? Consult FeedFliks, a free service that analyzes your rental history and calculates the relative cost of each movie.
For example, let's say you're on the $15-per-month plan, and you never use Netflix's Watch Instantly feature to stream movies. If FeedFliks determines that you watched an average of only 2.5 movies per month for the past three months, that works out to roughly $6 per movie--not a great return on your investment.
The service also provides a wealth of information about your Netflix habits, such as how long you typically keep your DVDs, how many movies you've rated, and so on. Plus, it lists current and upcoming titles in both your DVD and instant queues.
DVDLater: Like to plan your DVD rentals way in advance? Netflix makes it easy to browse movies by genre, new releases, and so on, but it doesn't catalog the movies now playing in theaters. DVDLater does, along with films that are coming soon or even just showing previews. For any release you want to save to your Netflix queue for later, just click Save to Queue. Presto--it lands in the Saved DVD section, ready for queuing when the movie releases on DVD.
Amazingly, DVDLater requires no registration, special account, or Netflix permission. As long as you've already signed in to your Netflix account elsewhere in your browser, you're all set to use DVDLater. Gotta love that kind of speed and convenience.
Hacking Netflix: Your source for all things Netflix, the Hacking Netflix blog covers Netflix-related news items, new releases, service updates, stories of customers using Netflix to "cut the cord" on cable service, and so on. Judging by the number of comments that accompany most posts, the site draws a decent amount of traffic, making it a good place to check the opinions of fellow Netflix users and share your own. Even handier, the site lists Netflix's customer-service phone number right at the top.
InstantWatcher: Quick--underrated World War II gem Hope and Glory is about to expire from Netflix's Watch Instantly library! I know this from checking InstantWatcher's 'Expiring' list, one of many invaluable tools for fans of streaming movies. The site also catalogs the top-rated and lowest-rated titles, the New York Times Critics' Picks, the newest additions, the most popular movies, foreign films, and much, much more--all with an endless variety of filtering options.
Best of all, it lists the movies that are coming soon to Watch Instantly. (More Police Academy sequels, huh? Sometimes the news is not good.) InstantWatcher offers a ton of movie-browsing features not found on Netflix proper, making it a must-bookmark site.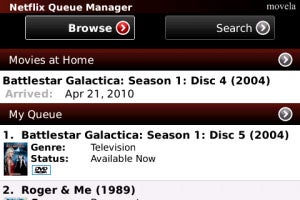 Movela Netflix Queue Manager (BlackBerry): You can't yet watch Netflix movies on your BlackBerry, but at least you can manage them. Movela Netflix Queue Manager puts account access in your pocket, allowing you to search the Netflix library, browse various movie genres and "top" lists, and, most important, manage both your disc and instant queues.
The app even lets you rate movies and find titles similar to the ones you've chosen. Netflix Queue Manager works on all devices running BlackBerry OS 4.2.0 and later, and sells for $5.
Netflix Pivot: The insanely cool Netflix Pivot (built on Microsoft's Silverlight) turns the entire Watch Instantly library into a giant wall of movie posters. You can zoom in, scroll around, and click any poster to view the movie's corresponding Netflix page. But Pivot also lets you filter and sort the wall by rating, genre, year, director, and other criteria. In other words, it's fun to play around with, but it's also a useful tool for zeroing in on the kinds of movies you like--and the ones that have the highest ratings.
Netflix for Windows Media Center: Forget TiVo, Xbox 360s, and the like--if you want the single best (and cheapest) Netflix viewing option for your home theater, look no further than Netflix for Windows Media Center. Available for most versions of Windows Vista and Windows 7, it requires just a quick download and account activation to get started.
This WMC add-on lets you review your queues, browse and search the movie libraries, and stream to your heart's content. Plug your PC into your TV, and you have big-screen Netflix without any extra monthly fees. And because PCs have keyboards, it's that much easier to input movie titles you want to search for.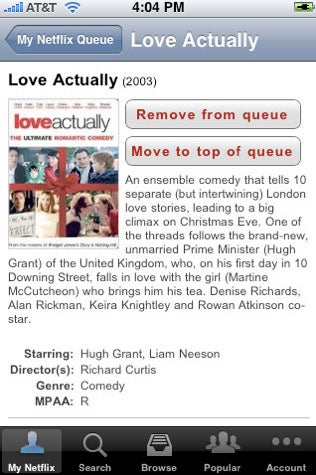 PhoneFlicks (iOS): The Netflix app for iOS devices is great for watching movies and TV shows on the go, but it doesn't offer much in the way of account or queue management. With PhoneFlicks, you can review and modify your disc and instant queues, check your recent activity, see movie recommendations, and even find out which movie(s) you have at home (so you don't accidentally rent the same one from your local Redbox kiosk).
The app also lets you search and browse the entire Netflix catalog, and it devotes an entire section to "popular" lists: Top 100, New Releases, New Instant, Action & Adventure Top 25, and so on. Amazingly, PhoneFlicks is free.
Queue Manager (Android): Many Android-smartphone owners are champing at the bit to get their own version of the Netflix app that iPhone owners have been enjoying for months. Until then, there's Queue Manager, which lets you do absolutely everything with Netflix--except stream video, of course.
Built with Adobe AIR (and sporting the luscious-looking menus to prove it), Queue Manager provides not only queue management but also film recommendations, movie browsing/searching, watched-movie histories, and more. It's free, and just slick enough to tide you over until a real Netflix app graces Android.
WhichFlicks: So it's your turn to plan movie night. But what to watch? WhichFlicks helps you decide by way of various filters, which you can use to narrow down the selection. For example, let's say you're looking for a comedy with a four-star-or-better Netflix rating, a Rotten Tomatoes percentage of at least 80, and a Golden Globe award. Oh, and you want to watch it immediately, so it has to be available for streaming.
With just a few clicks, WhichFlicks shows you the titles that meet your criteria. This slick service borrows from InstantWatcher and Netflix Pivot, but has a sexier interface than both--and a free iPhone companion app for deciding on the go what to watch.
For comprehensive coverage of the Android ecosystem, visit Greenbot.com.