As our media world continues to fragment, I find that there are some videos that I can find easily on the Web that just aren't available on my TV. Someday, all TVs will come with fully functioning Web browsers that'll be able to access any content my PC can, but until that wonderful day dawns, the Veebeam will have its place.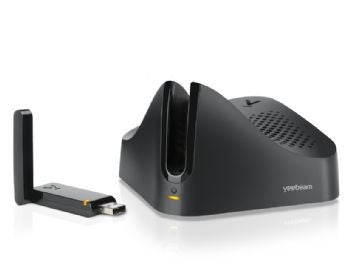 This device streams any video you can show on your PC to your HDTV, no matter what the format is or where the video comes from. In essence, the Veebeam is like a wireless video card that turns your TV into a second monitor for your laptop.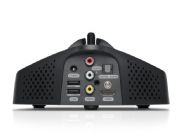 The device is a sort of undulating black box a little under 5 inches square. You connect it to your TV through HDMI or composite video ports. Then you plug a USB dongle into your laptop and you're ready to go. The Veebeam uses Wireless USB and can reliably transfer over about 10 feet. It'll handle resolutions up to 1080p and can reproduce 5.1 surround sound.
Don't plan on using the Veebeam with your netbook, though. You need a 2.2GHz or greater Intel Core 2 Duo or Core i3, i5 or i7 processor and 2GB or more of RAM. The HD version of the Veebeam costs $139 and the standard def version goes for $99.
For more up-to-the-minute blogs, stories, photos, slideshows, and video from the nation's largest consumer electronics show, check out PC World's complete coverage of CES 2011.
This story, "Veebeam Sends HD Video from Your PC to Your TV" was originally published by PCWorld.