New Sony Cameras Shoot Easy 3D Stills, Higher-Quality Video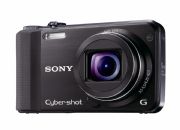 In 2010, Sony introduced a 3D Sweep Panorama mode to its Exmor R CMOS-sensored Cyber-shot cameras, making them the first mainstream single-lens point-and-shoot models to tackle the third dimension. The 3D panoramic images looked impressive on a compatible 3DTV, but it was hard to take a well-framed 3D image of anything other than a wide-angle vista. You had to pan the camera from side to side to capture a 3D image, making it hard to take an arm's length 3D self-portrait.
Five new Cyber-shot cameras coming in 2011 push the cameras' 3D capabilities even further, as they let you snap a 3D photo as you would a normal photo: you point the camera at a subject, press the shutter button, and the camera quickly snaps two photos and combines them to create a 3D still image.
One of the five new cameras also offers a few extra goodies, as well. The Cyber-shot TX100V shoots 1080p AVCHD video at a smooth 60 frames per second and the maximum 24Mbps bitrate, which Sony claims is a first for the compact camera category. The TX100V also boasts a 3.5-inch OLED touchscreen and in-camera GPS to go along with its 3D still modes and HD video capture.
Here's a closer look at the five new Exmor R-sensored Cyber-shot cameras, all of which offer the new 3D Still Image mode. Like most of Sony's recent Exmor R-sensored cameras, we expect these cameras to be champs when it comes to low-light shooting.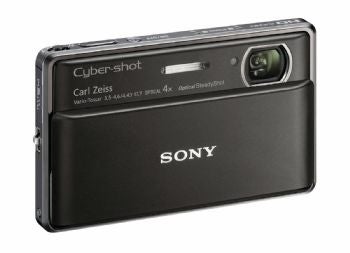 Cyber-shot TX100V: OLED Touchscreen, 3D Modes, GPS, and High-End Video
The 4x-optical-zoom (25mm to 100mm) TX100V is Sony's first Cyber-shot camera to boast an OLED touchscreen, and it's the highest-end (or at least the highest-priced) of the company's 2011 CES announcements. Like the rest of the new cameras detailed in this story, it offers a 16-megapixel Exmor R CMOS sensor, optical image stabilization, and three 3D modes: 3D Still Image, 3D Sweep Panorama, and Sweep Multi-Angle, which lets you view a 3D effect during playback by tilting the camera.
The TX100V's GPS capabilities and internal compass let you geotag images as you shoot them, but if the feature is anything like the one in last year's GPS-enabled Sony cameras, you need to offload your images to a computer in order to view them on a map interface.
It's the only new Cyber-shot to feature 1080p / 60fps /24Mbps AVCHD video capture, but like all the new Exmor R cameras, it offers a Dual Record feature that lets you snap a 3-megapixel still photo while you're shooting video. However, the Dual Record mode is only active when the camera is set to 1080i recording or lower resolutions and frame rates.
Other key features include an upgraded HDR mode that takes an additional shot for a greater exposure bracketing range, a searchable in-camera guide that explains each mode and offers quick tutorials, a 10fps burst mode at full resolution, and a storage slot that handles both SD/SDHC/SDXC cards and MemoryStick cards. It also offers 36 scene modes for still images, including the excellent Handheld Twilight, Sweep Panorama, and Background Defocus modes, as well as 44 scene modes for shooting video.
The Cyber-shot TX100V is due in March for $380 in black, red, or silver.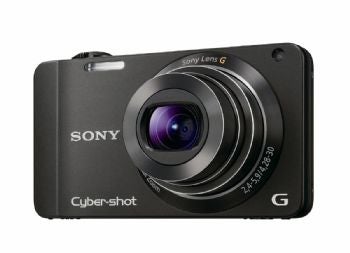 Cyber-shot WX10: Manual Controls, Fast Focusing, and 3D Modes
The 16-megapixel Cyber-shot WX10 is a nice upgrade to last year's Cyber-shot WX5, offering a wider-aperture F2.4 lens and a 7x optical zoom (24mm to 168mm); a new high-speed focus system that Sony says locks in on a subject in 0.1 of a second; and manual controls over aperture, shutter, focus, and white balance.
Like the TX100V, it offers the three 3D shooting modes, improved HDR, the combination card slot, a 10fps burst mode, the Dual Record feature, extensive scene modes for stills and video, and revamped in-camera guides. Video recording tops out at 1080i / 60fps at 24Mbps in AVCHD format.
Due in March, the WX10 is the only one of the new Sony cameras that offers manual controls. It will be available in black for $280.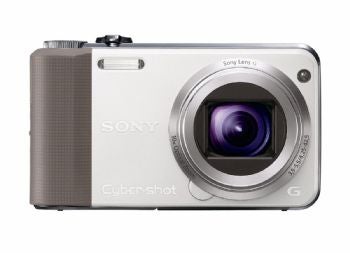 Cyber-shot DSC-HX7V: 10x Optical Zoom, GPS, and 3D Modes
The 16-megapixel Cyber-shot HX7V is Sony's new Exmor-R-based pocket megazoom offering, replacing last year's highly-rated HX5V. Along with a 10x optical zoom lens (25mm to 250mm), it offers an in-camera compass and GPS for geotagging shots.
The rest of its shooting modes and features are along the same lines of the WX10, minus the manual controls, improved HDR, and the high-speed focus system: three 3D modes, extensive scene modes, a 10fps burst mode, the Dual Record feature for its 1080i / 60fps / 24Mbps AVCHD video mode, the combination card slot, and the new in-camera guides.
The HX7V is due in March for $300, available in black, blue, red, and white.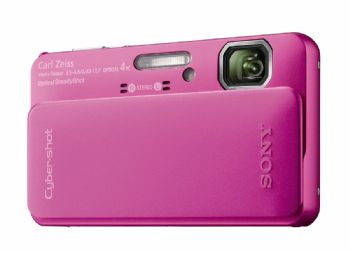 Cyber-shot TX10: Waterproof, Shockproof, and Good for 3D Photos of Fish
Like last year's durable-but-sexy Cyber-shot TX5, the 16-megapixel TX10 is waterproof and shockproof that looks like a fashionable everyday camera. Controls are handled by a 3-inch touchscreen, even while you're underwater.
The 4x optical zoom TX10 (25mm to 100mm) TX10 includes 3D Sweep Panorama, 3D Still Image, Sweep Multi-Angle, and underwater shooting modes that should make it the travel camera to beat in 2011.
Like the other new Exmor R Cyber-shots, the TX10 features a wide array of scene modes, a Dual Record feature in its 1080i / 60fps / 24Mbps AVCHD video mode, a 10fps burst mode at full resolution, a combination card slot, and the revamped in-camera guides.
Priced at $330, the Cyber-shot TX10 will be available in March in black, silver, blue, green, or pink.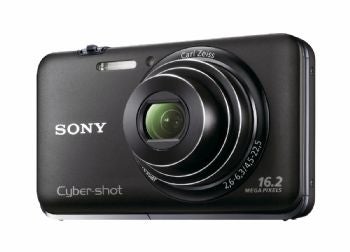 Cyber-shot WX9: Lower-End Version of the WX10
Last and least-expensive in Sony's new CMOS-sensored Cyber-shot lineup is the WX9, which is similar to the WX10 but cuts a few features to get close to the $200 price point. The 16-megapixel WX9 has a 5x optical zoom lens (25mm to 125mm) with a slightly narrower F2.6 aperture. It also lacks the manual controls of the WX10, trading them in for a wide array of automated modes and scene settings.
The new 3D Still Image mode is in the mix, as are 3D Sweep Panorama and Sweep Multi-Angle modes, as are the usual suspects for this new wave of Sony cams: 1080i / 60fps / 24Mbps AVCHD video mode, improved HDR, a 10fps burst mode at full resolution, a combination card slot, and the new in-camera guides.
The Cyber-shot WX9 will sell for $220 starting in March. It's available in black, red, or silver.
See our CES 2011 topic center for more news from the show.
Product mentioned in this article
(1 items)
Sony Cyber-shot DSC-WX10 Compact Camera

$298.00 (Check Prices)

via Amazon Marketplace

Amazon Shop buttons are programmatically attached to all reviews, regardless of products' final review scores. Our parent company, IDG, receives advertisement revenue for shopping activity generated by the links. Because the buttons are attached programmatically, they should not be interpreted as editorial endorsements.

The ultracompact Cyber-shot WX10 packs a big punch--including a 7X zoom lens, 3D shooting, and smooth 1080i video--into a small package. Image quality could be better, but you'll still find a lot to like.