Turn Your Smartphone Into a Home Theater Remote Control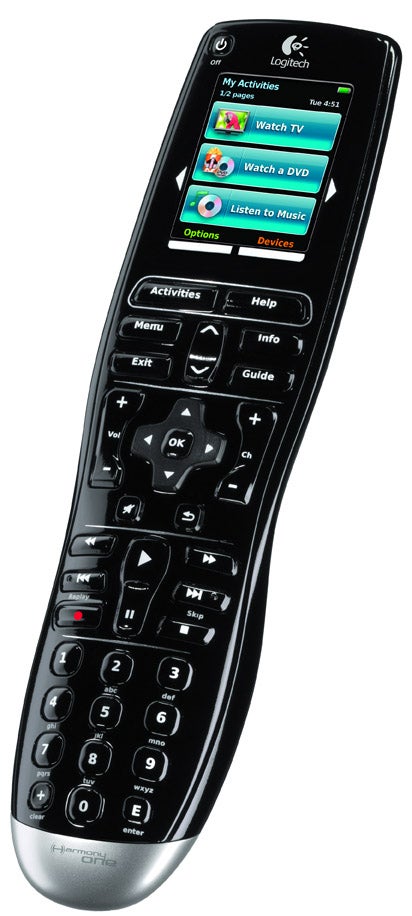 A universal remote control saved my marriage.
Okay, I'm exaggerating, but only slightly. My family room sports a 7.1 audio system, an Onkyo TX-NR1007 receiver, a Sony 1080p HDTV, a Blu-ray player, a Dish Network satellite receiver, and two game consoles. The chore of juggling the various remote controls was too much for my long-suffering family. They're used to my predilection toward tech geekiness, but figuring out which remote to use was the last straw. So I invested in an activity-based Logitech Harmony remote control and set it up once--and everyone has been happy ever since.
But dedicated universal remotes are so 20th century. Today people have smartphones and tablets, both of which are poised to replace universal remotes. Though this is still early-adopter territory, new apps and hardware are arriving rapidly.
What's cool is that smartphones and tablets are redefining the remote control. A universal remote used to be a device that controlled your AV rack. If you had a ton of money, you might throw a few thousand dollars at dedicated home automation gear, such as equipment from Crestron, and get whole house control. Today's universal remote controls particularly emphasize the remote concept--in some cases, allowing you to control your TV viewing from any location.
In this article, I'll first look at using a smartphone or iPad as a standard universal remote control. Then I'll briefly explore the world of home automation. After that, I'll discuss remote remote control. Finally, I'll provide a couple of real-world examples, one for using the iPhone as a universal remote, and the other for using an iPad to control a DVR remotely.
Smartphones as Universal Remotes
Using your smartphone as a universal remote isn't a new idea; it has been around almost as long as smartphones have. Back in the early days, when smartphones used Windows Mobile, various remote control apps surfaced. They were all a little clunky, though, and most of the versions I've seen took what I'd describe as a traditional, device-centric approach: Users had to turn on each device individually, and then control the devices independently.
Most apps would let you set up macros so that you could daisy-chain commands to, say, turn on all your devices. But if you wanted to watch DVD movies, you'd then have to switch to the DVD player to control that. As for volume control, macros would again help, but creating them was often tedious work. I experimented with some of these early apps, but they were more frustrating than useful.
The iPhone changed everything. If you fire up iTunes and search for "universal remote," you'll find a number of applications that permit you to control your home theater gear with the iPhone. However, there is a catch: Almost all of these apps are proprietary, because they need some form of external hardware. I'll touch on that topic shortly.
Similar apps exist for Android and even BlackBerry. And now that Windows Phone 7 is a reality, we'll likely see more of these types of apps on that mobile platform, as well.
Before I talk about apps, however, I need to discuss one key aspect of home AV gear: infrared technology.
The Invisible World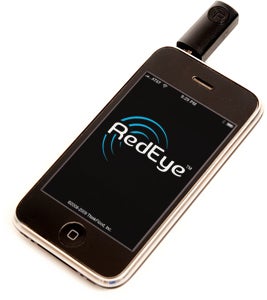 Most modern AV devices still use remote controls that employ infrared light beams. Although a few devices use radio, and there's a movement toward control over HDMI (allowing for a single master device), the actual remotes are simple IR emitters. This fact has caused great heartburn among PlayStation 3 owners who use their game consoles as Blu-ray players, because the PS3 is controlled via Bluetooth. Controlling a PS3 with a universal IR remote requires an adapter, such as the PS3IR.
Smartphones, however, don't have built-in IR emitters. You need some kind of external device to transmit IR signals; for most smartphone universal remotes, that device comes in the form of a dongle that connects to the phone. The main drawback of this approach is the lack of a universal IR blaster for mobile devices; most dongle-based IR emitters are proprietary to a particular app. So if you use the Re app for iPhone or iPad from NewKinetix, for instance, you must use the NewKinetix-supplied IR dongle. The RedEye app can use the RedEye Mini IR emitter. RedEye is currently available for iOS only; Thinkflood, though, has suggested that it will be porting the app to Android, since the RedEye Mini plugs into the phone's headphone jack rather than the proprietary power and data connector.
Some apps forgo dongles, using external boxes for control instead. The upside of this arrangement is that you don't need to attach a gizmo to your phone. The downside depends on the specific box.
AV/Shadow for the BlackBerry platform uses a small external IR emitter. The phone communicates with the box via Bluetooth. Ordinarily, placement of the IR emitter is relatively critical, since IR requires line of sight; here the use of Bluetooth helps a bit, since it doesn't require line of sight from the BlackBerry to the external AV/Shadow box.
The original RedEye product from Thinkflood (the company that sells the RedEye Mini dongle) combines an iPhone dock, an embedded Linux computer, and an IR emitter. The embedded computer has its own Wi-Fi connection, which you can access remotely from your iPhone. As a result, you can remotely control your AV rack anywhere you happen to be--even when you're not at home.
Another intriguing device is the Peel Universal Remote. Peel first arrived on the scene with a social-media-focused guide app for TV viewing. The new Peel Universal Control System is an external IR emitter that attaches to your network via Zigbee. Peel aims to integrate its social media capabilities into the remote control functionality. The Peel Universal Remote will ship sometime after the Consumer Electronics Show in January.
The idea of controlling your AV rack from wherever you are may seem a little obsessive: After all, why would you want to turn your receiver on and off if you're on vacation? But that isn't the point--what these devices are promising to do is give you control over VCR or DVR scheduling or, in some cases, the ability to view what you've recorded remotely.
Dedicated Applications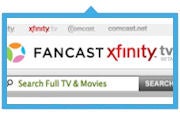 Not everyone is a TV junkie in need of switching among multiple devices and constantly monitoring what's happening with their home theater systems. Quite a number of users, including some of my own family members, would be content to be able to schedule shows for their DVR anytime, anywhere.
In fact, you can do so already, depending on which DVR or service you have. For example, if you search the iTunes store, you'll find individual apps that give you control over specific services. The Xfinity app allows you to control Comcast-based DVRs. Verizon offers a FIOS DVR manager. DVR Remote lets you control your TiVo series 3 or TiVo Premier DVR. Dish Networks has an app that allows you to control your Dish DVR. Many of these apps are also coming to Google's Android platform.
Android users have similar options. TiVoRemoteApp, which controls your TiVo DVR, doesn't require an IR dongle, since it connects to your TiVo over the Internet. And Comcast and Verizon have announced that they'll be making Android versions of their respective apps available in the near future.
At least one announced Android phone, the Lumigon T1, ships with a built-in IR emitter. It's currently distributed in Europe; availability in the United States market is uncertain. The T1 includes built-in learning remote software, too, so you don't need to hunt for a third-party app.
You can, in a limited way, even control your home theater PC, particularly if you're using the popular VLC Media Player. VLC Remote Control software, which exists for both the Android and iOS platforms, allows you to control your home theater PC if it's using VLC Media Player. Alternatively, you can take complete control of your home theater PC with an app such as HippoRemote, which turns your handset into a wireless keyboard and touchpad for your home theater PC (or any PC, for that matter).
I'll take a look at one example, the Dish Remote Access application, on the next page.
Two Examples: Re and Dish Network
Now let's turn to two real examples so that you can get an idea of how you might use a smartphone or tablet for remote control. First up is Re, from NewKinetix. Re is available in both iPhone and iPad versions; I'll look at the iPhone version. Then I'll discuss how Dish Network's app allows you to control that company's DVRs from an iPad.
NewKinetix Re
The Re from NewKinetix comes in two parts: a free iPhone app and a customized IR dongle that costs about $52 from Amazon or $70 direct from NewKinetix. You attach the dongle to your iPhone power/data connector. Because the IR emitter connects to the bottom of the phone, you need to turn your phone upside down to use it.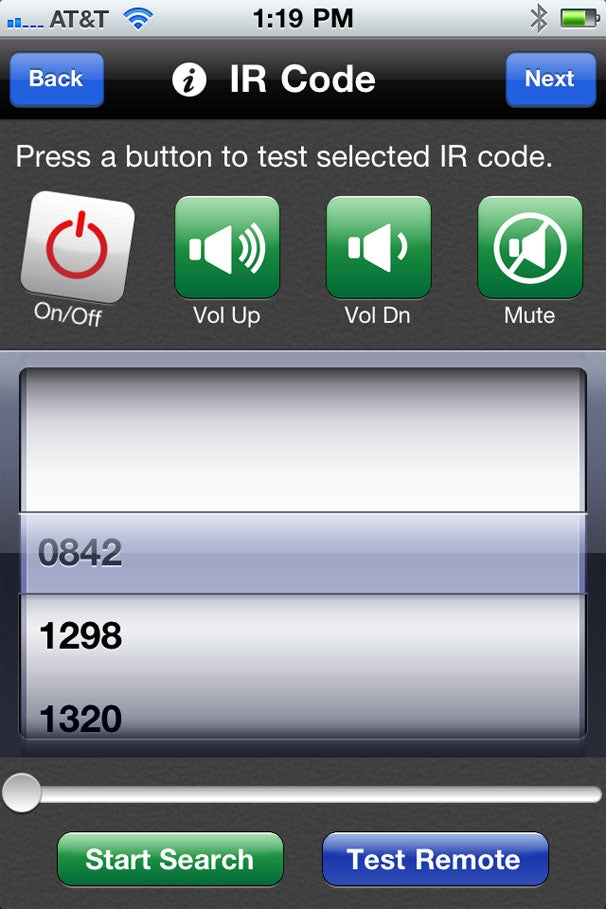 Setting up the Re is a bit confusing at first--not because it's upside down, but because it presents the IR database in a generic way. Most manufacturers reuse the IR codes for their devices (a newer Onkyo receiver, for instance, may use the same codes as older ones), and they add codes for new functions.
The Re software presents these codes in numbered lists; each number likely refers to a different family of similar products from different manufacturers. For any of your devices, you'll get a set of meaningless numbers.
Just pick one, and see if it works. If not, try the next. You'll encounter some odd oversights, such as Microsoft's Xbox 360 game console. The Xbox 360 may very well be listed; under the Microsoft category, though, NewKinetix lists Blu-ray/HD-DVD, DVD, Media Center, PVR, VCR, and 'Video Accessory'. Nowhere does it have a listing for game consoles.
The Re acts as a learning remote, so if you can't find the codes for your device and you have access to that device's remote, you can position them to face each other and go through the tedious chore of clicking buttons to transmit the remote codes to your iPhone. The good news is that NewKinetix supports hundreds of devices, so the odds are good that yours is there.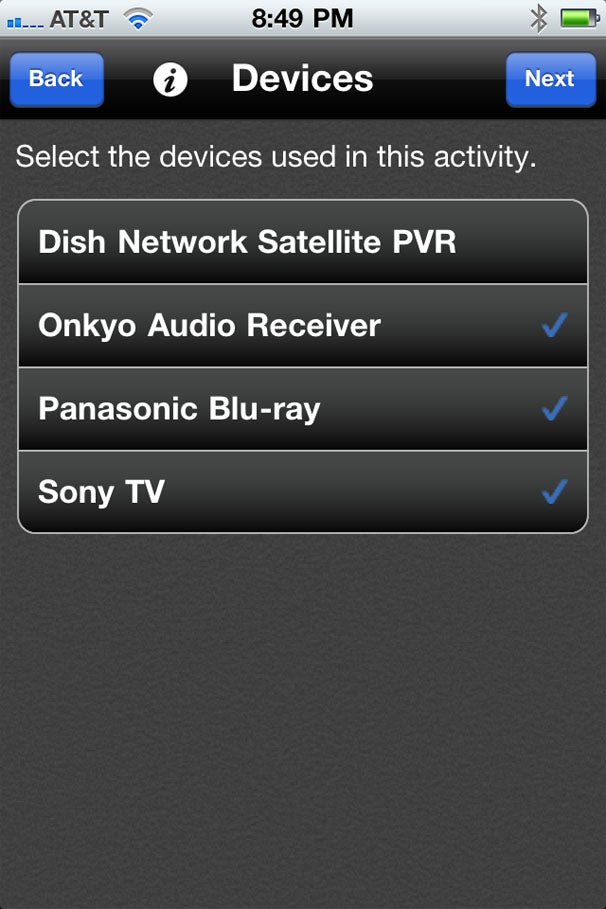 Re is an activity-based remote. You first set up your rooms and then add the devices that exist in each room: A/V receiver, Blu-ray player, set-top box, and so on. After you add the devices, you add activities, such as 'Watch a Movie' or 'Watch TV'. For each specific activity, you select from the list of devices you've added to that room.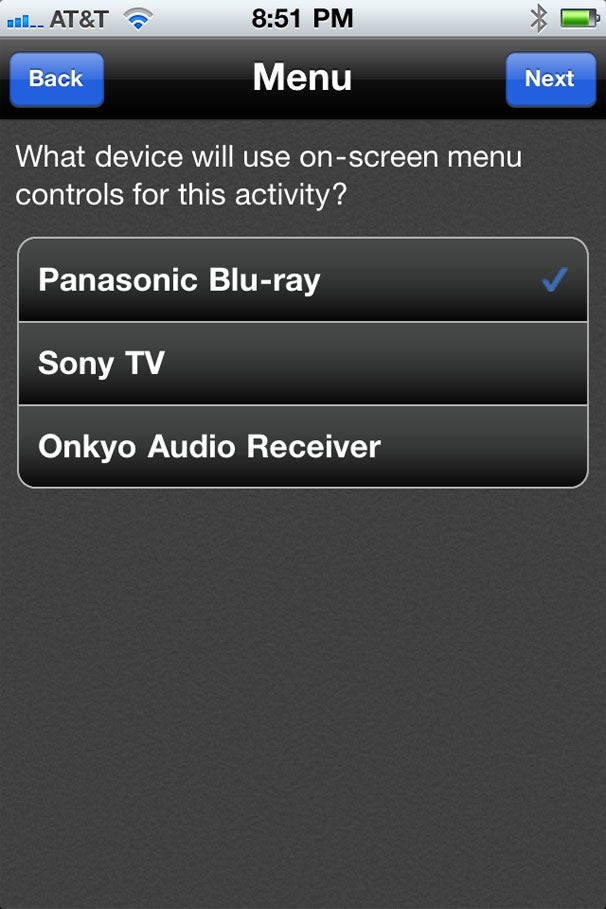 After that, you choose which device is the primary one; Re lists this page as the 'on-screen menu' picker.
Once you're done, you can go to that activity and launch it, which turns on all the devices and presents you with a fairly generic set of controls for that activity. You can swipe down to reveal more-detailed controls.
If you need other controls for a particular activity, you can go to the device-specific menu. If you use that function often, the PDF manual details how you can customize these screens by adding buttons for extra functionality, including macros.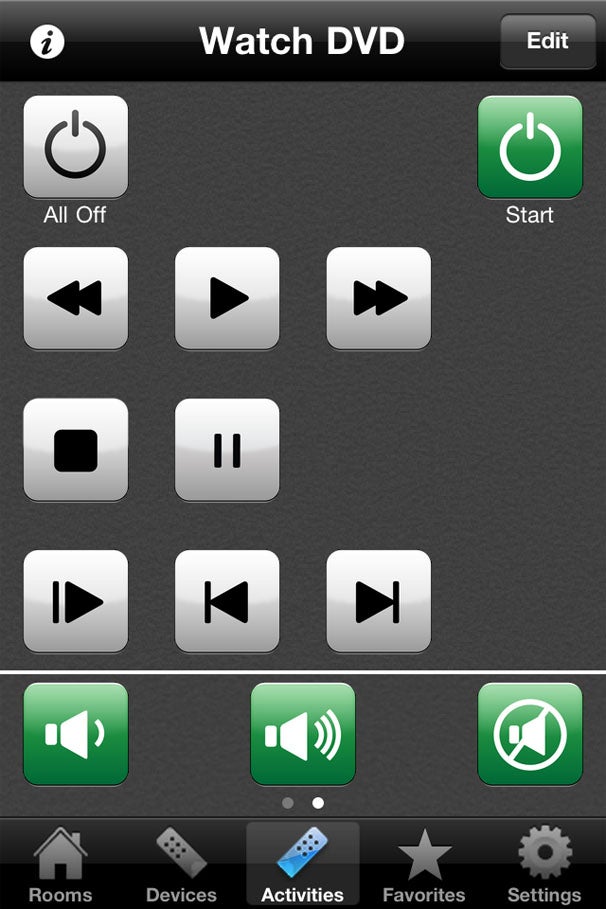 Overall, this arrangement works surprisingly well. Re isn't quite as polished as the Harmony One remote I've been using, but if I were to spend some additional customization time, it could get pretty close. The neat thing is that if you have multiple devices in multiple rooms, you don't need more than one remote--just one iPhone or iPad.
Dish Network App
Most of the major content-delivery companies--cable, satellite, and online--now have apps for smartphones to help you manage your devices. Since I have a Dish Network ViP-722k, I gave the Dish application a whirl.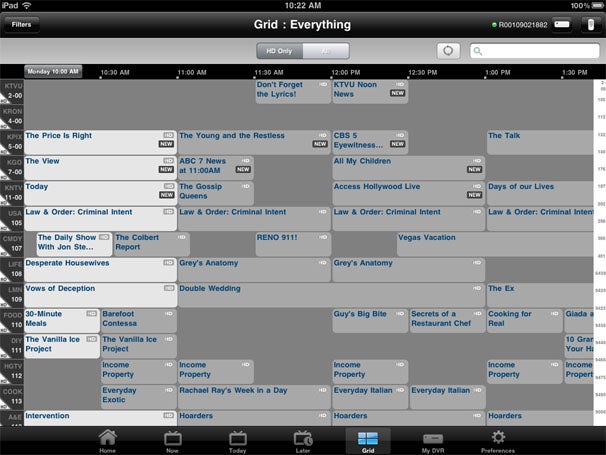 You'll need a DVR that has broadband-connection capability, like the ViP-722k. That's because the Dish app doesn't use remote or even RF signals. It communicates with the DVR--really a Linux-based computer--over the Internet to deliver commands. You might think that this setup would result in some network lag; but when I tried it, pressing the Record button seemed to result in the show recording starting almost immediately.
Getting started, though, is a little cumbersome. First you need to activate your account for Web access; you do so by going into the Dish DVR installation menu and selecting the Web access menu entry. A window pops up with an activation code (not unlike Xbox 360/Windows Media center activation), and you enter that code on the Dish Network Website.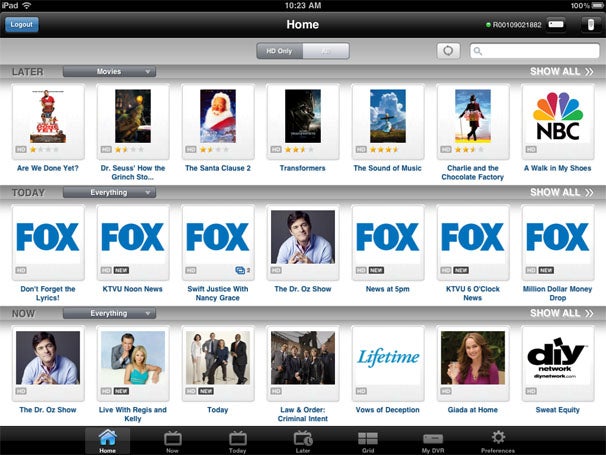 Once you have Web access, you download the iPad app (the company also offers one for the iPhone, and an Android version is coming). You then have full access to the Dish guide, and the app even knows what DVR you have--right down to the serial number.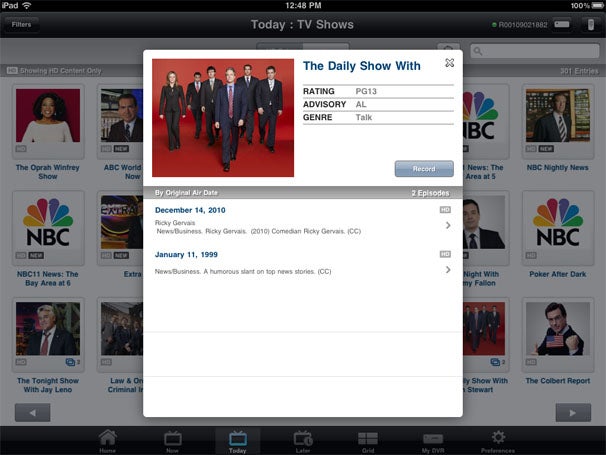 You have a variety of views into the Dish TV listings. I found the thumbnail view too limiting, even on the iPad, so I prefer the grid view. The thumbnail view, which is the Home screen, looks pretty crowded, but you can sort by category.
Picking one show easily lets you schedule a recording. (You can also do this in the grid view.) You can also navigate to a page that lists all existing DVR timers. You can modify, cancel, or add new timers, as well as manage conflicts.
I've gotten fond enough of the Dish app that I'm no longer using the DVR and remote control to manage recordings--it's that simple. For what it's worth, you can also handle these tasks via a standard Web browser, at the Dish Network Website. But the iPad makes the process more organic and natural feeling.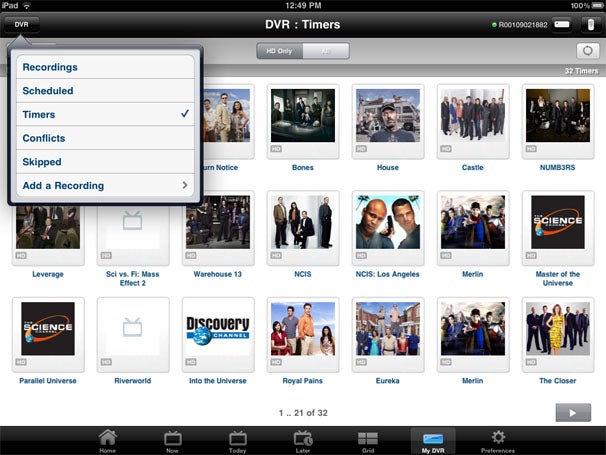 One other cool aspect of Dish that I plan on adding in the future is Sling capability. Dish Network bought Sling a couple of years ago. The high-end ViP-922 DVR has Sling capability built in; alternatively, you can order a Slingbox to add the functions to an existing Dish DVR, provided that it has USB support. I've ordered one, but I haven't had time to set it up yet.
Adding Sling capability means being able to watch your recorded shows on the same device you're using to control the DVR--namely your iPad, iPhone, or PC.
One day, the IR-based remote control may fade away, leaving true wireless control of devices from any location, at any time, without the necessity of add-on hardware. Right now, however, you can use your smartphone or tablet computer, if you're willing to download some apps and invest a little learning time.
For comprehensive coverage of the Android ecosystem, visit Greenbot.com.
Connect Your PC To Your HDTV