Here's what Nokia's Android interface would have looked like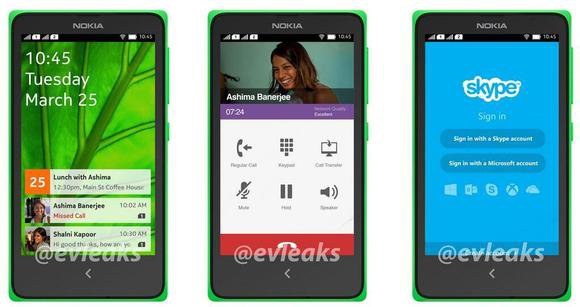 We normally don't like to draw attention to unverified rumors, but this one is too juicy to pass up.
The oft-reliable Evleaks has leaked photos of Nokia's alleged Android mockup. The result is an amalgamation of Windows Phone 8's flat, Metro-style interface laid on top of Android's base code. The leaks also show that the phone only utilizes one navigational hardware button, which is a bit of a departure from Android's two- and three-button setups. Overall, the screenshots hardly resemble any of the Android variants that exist now.
The rumors of an Android-powered Nokia phone continue to persist, however. They grew increasingly numerous after the New York Times revealed late last year that Nokia dabbled with the idea of an Android handset before it adopted the Windows Phone platform. Then it was revealed that the hardware was codenamed Normandy and that it shared the codename AoL, which stood for "Asha on Linux."
As a result, there is still faint hope out there that an Android Nokia phone could still happen, but for the low-end market with its Asha line of phones. However, with Microsoft soon to snap up the Finnish mobile company, the possibility of that happening is highly unlikely.
Still, it's fun to dream and conjure up what could be or what could have been.
For comprehensive coverage of the Android ecosystem, visit Greenbot.com.

Amazon Shop buttons are programmatically attached to all reviews, regardless of products' final review scores. Our parent company, IDG, receives advertisement revenue for shopping activity generated by the links. Because the buttons are attached programmatically, they should not be interpreted as editorial endorsements.