Must-Have Windows 7 Downloads
Digging Deeper Into Windows 7: Utilities for Security and Peripherals
Microsoft Security Essentials
Windows 7 comes with all the security tools you need for safe computing--except one. It has a robust firewall, spyware protection courtesy of Windows Defender, and phishing and malware blockers built into Internet Explorer 8. The only missing piece of the puzzle? Virus protection. And that's exactly what you get from Microsoft Security Essentials.
The tool provides a real-time blockade against viruses, spyware, and other threats. It works quietly and unobtrusively in the background--in fact, the only time you'll hear from Security Essentials is if it detects a problem or needs an update. I've used it for months, and I've found it effective at catching the occasional intruder; its impact on system performance is negligible, too. If you're tired of paying annual fees for other antivirus software, Security Essentials is, well, an essential alternative.
Download Microsoft Security Essentials | Price: Free
Right-Click Extender
If there's a red-headed stepchild of the Windows feature set, it's the right-click context menus. Few users seem to bother with them--perhaps because they don't know the menus are there, but more likely because the menus don't include the features that users want (like, say, Copy To and Move To commands for files and folders, and shortcuts to Control Panel or Task Manager on the desktop).
With Right-Click Extender, you can add those and other handy shortcuts to Windows' context menus. The utility divides its options into four main headings: File/Folder, Desktop, Drives, and MyComputer, each indicating which set of right-click menus you're modifying. Within File/Folder, for example, you can add items such as Administrator Command Prompt, Open with Notepad, and the aforementioned Copy To/Move To. Desktop options are mostly shortcuts to commonly used programs and functions, like Device Manager, Paint, and Hibernate PC. For many of the additions, you have the option of making them appear only when you hold down the Shift key while right-clicking--it's great if you want to keep them as "secret" menus that stay hidden to other users.
Download Right-Click Extender | Price: Free
WizMouse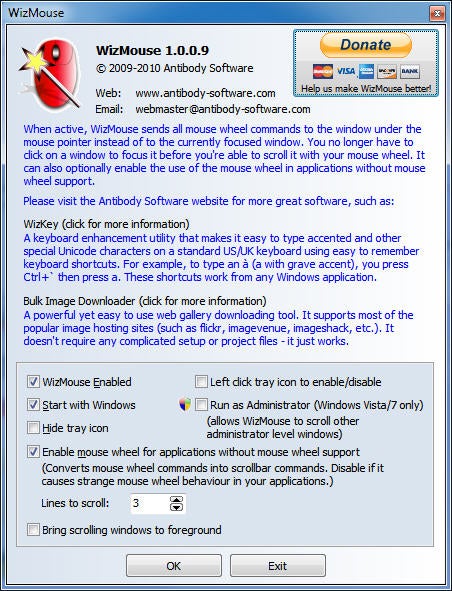 Windows 7 may be smarter than every version of Windows that came before it, but it's still a little challenged in one key area: mouse-wheel scrolling. Though logic would dictate otherwise, you can't just roll your cursor inside a window and start scrolling--it doesn't work. Instead, you have to click in that window first, to bring it into "focus."
Antibody Software's WizMouse overcomes that Windows whoopsie by making your mouse's scrollwheel work wherever you point your cursor--no preliminary click necessary. That may seem like a tiny improvement, but you won't believe how much easier it makes your everyday Windows life.
As a bonus, WizMouse gives you the option of adding wheel-scrolling capabilities to programs that ordinarily don't support it. Note to Microsoft: Buy Antibody Software's code and add these functions to Windows 8, okay?
Download WizMouse | Price: Free