Must-Have Windows 7 Downloads
It's hard to believe, but Windows 7 is just turning one year old. And what an impressive first year the operating system enjoyed, receiving almost universal praise from critics and users alike. Of course, even the most nimble, secure, and versatile OS has room for improvement. That's why we're following up our popular "Best Windows 7 Downloads" with another assortment of essential apps and utilities, all designed to help you make your 7-powered PC even better. And believe it or not, they're all free.
(If you're already looking to grab several of these useful utilities, see our "Must-Have Windows 7 Downloads" collection for all of the links in one convenient spot.)
Home Sweet Home: Windows 7 Desktop Utilities
BatteryBar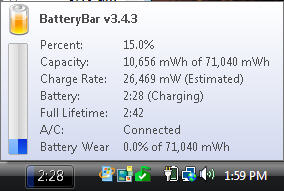 Although each version of Windows has improved on laptop power management, Windows 7 still doesn't tell you much about your actual battery. BatteryBar does. This ingenious tool adds a full-time power gauge to the taskbar, one that shows you either a percentage of battery life remaining or the amount of run time left. A single click toggles between the two readings.
When your laptop is running on AC power, BatteryBar switches from green to blue and shows how long until your machine reaches a full charge. And when you mouse over the gauge, a pop-up window displays a wealth of additional information: total battery capacity, charge/discharge rate, AC status, and even a lifetime estimate based on historical charge/discharge data.
BatteryBar is free, but you'll also find a Pro version with features such as a graph of battery profiles, low/critical power warnings, and automatic power-scheme switching that kicks in when you move between AC and battery power. Interestingly, developer Osiris Development lets you choose the price you want to pay for Pro: $1 to $10. Even if you stick with the free version, though, this is a must-have app.
Download BatteryBar | Price: Free; Pro version $1 to $10
Dexpot
Virtual-desktop software provides an inexpensive and effective productivity boost, giving you the rough equivalent of a second (and third, and fourth) monitor without any extra hardware. Dexpot is one such program, and a recent Windows 7-oriented update makes it even better.
Specifically, a new plug-in called SevenDex displays thumbnail previews of your desktops when you mouse over its taskbar icon, thereby overcoming a common problem with virtual desktops: remembering what's where. For instance, did you leave Word running on Desktop 2 or Desktop 3? Instead of having to cycle through all your desktops to find what you're after, now you can just steal a glance at SevenDex's preview thumbnails and then click the one you want.
If your budget (or your desk) won't accommodate a second monitor, you'll love Dexpot. It's open-source software, and it's free for personal use.
Download Dexpot | Price: Free
Taskbar Items Pinner
Ever wish you could pin more than just programs to the Windows 7 taskbar? With Kishan Bagaria's aptly named Taskbar Items Pinner, you can: It lets you add a wealth of goodies to the taskbar, everything from your Pictures folder and Printers menu to individual files, folders, and even Websites.
After extracting this tiny app, make sure to run it under the administrator account (by right-clicking the icon and choosing Run as administrator). Then just click the box next to any item you wish to pin. If it's a file or folder, click the button next to Path, choose File or Folder, and then navigate to the item you want. (Alternatively, you can type in a Web address.) In the Icon field, type %SystemRoot%\system32\SHELL32.dll, and then enter a number in the adjoining field (3 for a folder, 13 for a Web shortcut--you'll have to experiment to find others). Finally, click Add Item. If you ever decide to remove any of these newly added extras, right-click the appropriate taskbar icon and choose Unpin this program from taskbar.
Download Taskbar Items Pinner | Price: Free

Amazon Shop buttons are programmatically attached to all reviews, regardless of products' final review scores. Our parent company, IDG, receives advertisement revenue for shopping activity generated by the links. Because the buttons are attached programmatically, they should not be interpreted as editorial endorsements.