Steve Jobs Gives Chilean Miners Apple IPods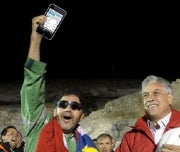 Apple's caring sharing CEO Steve Jobs has opened his heart and wallet to offer the 33 Chilean miners stuck in a collapsed mine tunnel more than 2,000 feet below ground since 5 August, free iPods.
According to Reuters, the Apple boss has sent each the latest iPod to celebrate the end of two-month plus ordeal. Real Madrid and Manchester United meanwhile, have both invited the men to watch a top game as guests of the football teams.
Most of the miners were found to be in good health, both physically and mentally, despite being stuck underground for so long, and at first feared dead.
In Video: How to Sync iTunes with Your Non-iPod Player

Amazon Shop buttons are programmatically attached to all reviews, regardless of products' final review scores. Our parent company, IDG, receives advertisement revenue for shopping activity generated by the links. Because the buttons are attached programmatically, they should not be interpreted as editorial endorsements.