BlackBerry PlayBook Touts Impressive Specs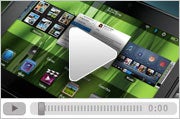 Research in Motion has just announced the BlackBerry PlayBook, a tablet device designed to compete with Apple's iPad and Samsung's Galaxy Tab. Slated for release in the Spring of 2011, the device will feature multi-tasking, Flash 10.1 support, front and rear-facing HD video cameras, and a slew of other high-end features.
Product mentioned in this article
(1 items)
BlackBerry PlayBook Tablet Computer

RIM's BlackBerry PlayBook looks promising, but the operating system's rough patches and a lack of app selection are reasons to think twice.
For comprehensive coverage of the Android ecosystem, visit Greenbot.com.