Panasonic's Lumix DMC-LX5 is a Serious Point-and-Shoot
Panasonic Lumix DMC-LX5 Compact Camera

$599.00 (Check Prices)

via Amazon Marketplace

Amazon Shop buttons are programmatically attached to all reviews, regardless of products' final review scores. Our parent company, IDG, receives advertisement revenue for shopping activity generated by the links. Because the buttons are attached programmatically, they should not be interpreted as editorial endorsements.

The Lumix LX5 isn't the most novice-friendly camera, but it offers an insane amount of power for a fixed-lens camera when you dig into its manual controls.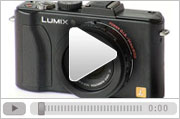 Positioned as a point-and-shoot camera for serious photographers, the Lumix DMC-LX5 tacks on significant enhancements to the performance-oriented LX3. The new camera doubles the optical zoom, and has improved low-light shooting, better range-of-motion correction in its optical image-stabilization system, a proprietary hot-shoe mount on the top of the camera, and the ability to shoot 720p high-definition video.