Google Drive for Android gets an interface makeover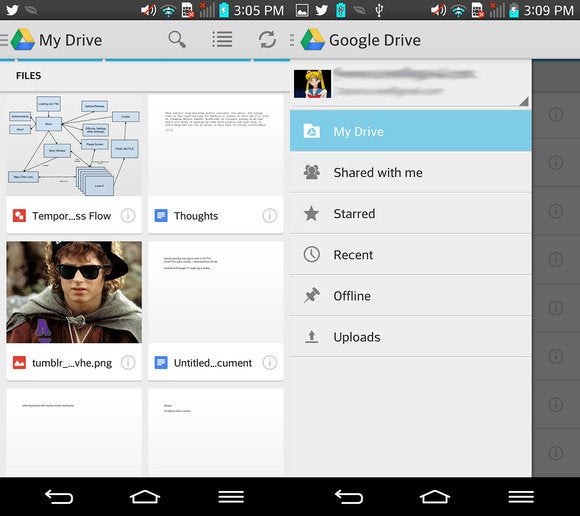 Google has given its Drive application for Android a bit of a facelift. Yesterday's update brought forth a new interface and a few other subtle features that makes it a little more useful on a mobile device. The company didn't detail much about the app update on its Google Play page, writing only that the app has had some "bug fixes and other improvements." But once you get the app downloaded and installed, it's like unearthing a prize from the bottom of a cereal box.
Google Drive now features a bright white interface, dubbed Holo Light. There is also a new Create button embedded on the bottom menu bar that displays quick action buttons for creating a new document, uploading a file, or scanning in a photo or document. Swiping downward freshres your Drive with new files.
Spreadsheets have also received a boost with the ability to merge and split rows and column in spreadsheets, or freeze them to segregate them out and do separate data work on the same spreadsheet. Android Police has pointed out that Google has made some minor tweaks for consistency, like changing the symbol of the offline syncing to a pause button from a stop button.
Google is slowly rolling out the update for Drive to Android users. If you don't see your update just yet, hang tight.
For comprehensive coverage of the Android ecosystem, visit Greenbot.com.

Amazon Shop buttons are programmatically attached to all reviews, regardless of products' final review scores. Our parent company, IDG, receives advertisement revenue for shopping activity generated by the links. Because the buttons are attached programmatically, they should not be interpreted as editorial endorsements.