Nokia picks a fight with Samsung on Twitter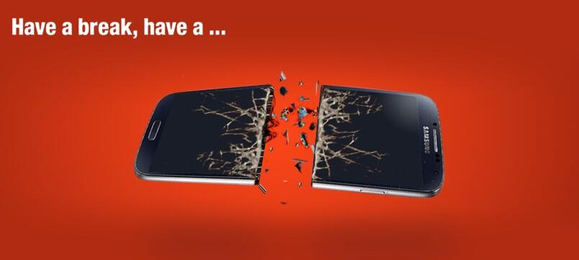 Some Android faithful may not care too much about fragmentation, but apparently, Nokia thinks it's fodder for jokes/threats on Twitter. The Finnish company has lashed out against the Android's behemoth manufacturer, Samsung.
Not wanting to be overshadowed after its big news with Microsoft earlier this week, Nokia's German account launched the attack on Twitter. The image depicts Samsung's Galaxy S3 breaking in half, just as you would snap apart a Kit Kat candy bar, along with the words "have a break." The question remains whether Nokia is telling Android users to take a break from the throes of Samsung's world domination, or whether it's simply poking fun at the "broken" nature of Android's ecosystem.
Have a break... #Kitkat #Nokia pic.twitter.com/6OuEQIVLLj

— Nokia Deutschland (@NokiaHomebase) September 4, 2013
It's not entirely clear what sparked the negative feelings—besides good old-fashioned competition. Either way, the joke is on Nokia, as it's the company that went with Microsoft as its lifeline, while Samsung's phone sales continue to skyrocket.
For comprehensive coverage of the Android ecosystem, visit Greenbot.com.

Amazon Shop buttons are programmatically attached to all reviews, regardless of products' final review scores. Our parent company, IDG, receives advertisement revenue for shopping activity generated by the links. Because the buttons are attached programmatically, they should not be interpreted as editorial endorsements.