Motorola's Droid 2 Needs a Better User Interface and Camera
Motorola Droid 2

$100.00 (Check Prices)

via Amazon.com Marketplace

Amazon Shop buttons are programmatically attached to all reviews, regardless of products' final review scores. Our parent company, IDG, receives advertisement revenue for shopping activity generated by the links. Because the buttons are attached programmatically, they should not be interpreted as editorial endorsements.

The Droid 2 is a big improvement over its predecessor, but if you take a lot of pictures with your smartphone, you might want to opt for another Droid.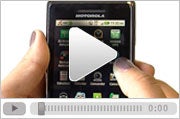 While the Motorola Droid 2 ships with latest version of Android and has an improved design, the phone's proprietary Motoblur interface gets in the way of a few native Android apps and the camera is mediocre. Smartphone expert Ginny Mies takes a look.
For comprehensive coverage of the Android ecosystem, visit Greenbot.com.