Quadrotors play catch with inverted pendulum; world domination next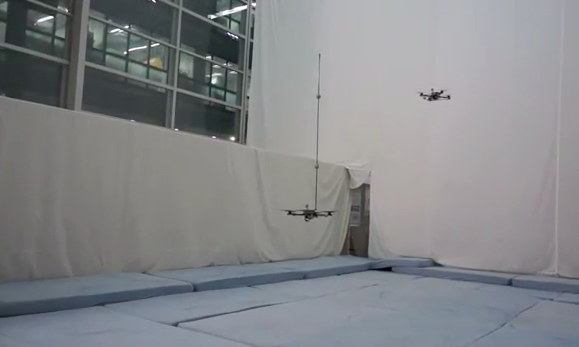 ETH Zurich's squadron of quadrotor mini-coptors has learned a new trick: playing catch with an inverted pendulum.
The quadrotors figured out how to balance inverted pendulums back in May 2011—difficult enough of a task for a human (at least for this human), but an astonishing feat for tiny bots guided only by ETH's Flying Machine Arena's motion-capture cameras and their onboard software.
Tossing an inverted pendulum to another of its quadrotor friends looks like the easiest thing in the world in ETH's mesmerizing new video , and is the result of some very smart programming, excellent physics engines, and shock-absorbing tips on the ends of the pendulum.
Quadrotors come in handy for testing navigation systems and flight control theory, as well as retrieval techniques. The Flying Machine Arena is an ideal test site for experimental programs and impromptu games of robot-catch; once the quadrotors can get out of the arena, the real fun will start.
I'll sure be watching.
[via IEEE Spectrum]
[Rachel Martin just got her bachelor's from MIT today, and is relaxing by watching some robot sports.]
Get more GeekTech: Twitter - Facebook - RSS | Tip us off

Amazon Shop buttons are programmatically attached to all reviews, regardless of products' final review scores. Our parent company, IDG, receives advertisement revenue for shopping activity generated by the links. Because the buttons are attached programmatically, they should not be interpreted as editorial endorsements.