Get Back to School with Toshiba's Satellite Laptop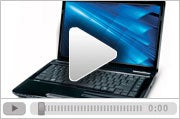 Toshiba's Satellite L645D-S4036 laptop is an inexpensive, lightweight machine that'll suit budget-minded students. It won't blow your mind with its performance, but it has 4Gb of RAM, a triple-core AMD Phenom II processor, a DVD-writer, and a 320Gb hard drive.
For comprehensive coverage of the Android ecosystem, visit Greenbot.com.