Page 2 of 2
Big Screens and Touchscreens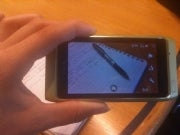 Cameras are getting smaller and smaller, but the opposite trend is occurring in the smartphone world. Rather than shrinking in size as technology advances, phones are getting larger to do a better job of showcasing multimedia content on their huge screens.
The HTC Evo 4G and Motorola Droid X are perfect examples. Both offer 4.3-inch-diagonal touchscreens that serve as superb LCD viewfinders for framing shots. The largest camera LCDs top out at around 3.5 inches diagonally--and they're few and far between. A camera's LCD normally measures about 3 inches diagonally.
It's not all about size, either. Razor-sharp resolutions such as the iPhone 4's 326-pixel-per-inch "retina display" remain crisp and clear when viewed in bright sunlight, whereas most digital camera screens lose visibility under the same conditions. Once upon a time, point-and-shoot cameras offered eye-level viewfinders to help mitigate visibility and battery-life issues, but those have largely gone the way of the LaserDisc. Unless you buy a DSLR or a larger camera with an eye-level electronic viewfinder, you're stuck with that hard-to-view LCD.
As it stands, a smartphone's huge screen does a better job of complementing the extended-arm shooting style that has become the norm for today's point-and-shoot cameras, as well as providing a more enjoyable way for the user to view photos before transferring them to a PC or printing them. This is another area where stand-alone cameras won't easily catch up to camera phones, especially if cameras continue to shrink and phone screens continue to increase in size and improve in quality.
There is a caveat here, however: Sometimes a screen's resolution can be too crisp and colorful when it comes to representing the underlying image quality. We've seen many phones (and cameras) with high-quality displays that make photos look amazing when they're on the device. Offloading those images to a computer and viewing them at larger size often uncovers an uglier truth.
Innovative Design Ideas
Smartphones aren't just connected to the outside world; internally, various linked components work cooperatively to strengthen each other. For example, a phone's camera becomes exponentially more powerful thanks to the phone's wireless connection, its video-chat capabilities, and any augmented-reality features it may have.
When a device does so many different things, the overall user experience is a crucial part of the equation. For this reason, interface design--which ties the device's different elements together--can make or break a smartphone's selling power.
The smartphone OS wars have spawned a constantly evolving popoulation of handheld devices that offer innovative, intuitive, and fun-to-use combinations of hardware and software. The best user interfaces make complex combinations of features easy to manage, or even prompt the user to think about combining them in new ways. In short, none of these interfaces bear much resemblance to the design and usability of a traditional telephone.
But when a device does one thing only, designers often stick to the tried and true. Cameras are built to take pictures, and pedestrian software serves primarily as a way to manage the hardware and in-camera settings. Camera controls are designed in a particular way because they've always been designed that way; what's missing is the smartphone's spirit of rethinking from the ground up how to use the device.
There are a few notable exceptions to the conservative approach of most camera designers--and not surprisingly, companies that make both cameras and smartphones are among the leaders in developing innovative design ideas.
Samsung's TL225 touchscreen camera offers a smartphone-like, touch-and-gesture-controlled interface that reinvents many aspects of using a camera: You can tilt the camera from side to side to change modes, draw an X on the screen to delete photos, and use a front-facing LCD screen to frame self-portraits and to display a countdown clock for self-timer shots.
Sony's latest Cyber-shot and NEX cameras adopt such interesting features as a one-touch Sweep Panorama mode that cleverly employs the camera's accelerometer, a Sweep Multi-Angle mode that lets you tilt the camera during playback to "move around" inside an image, and a Background Defocus setting that helps demystify aperture settings for novice shooters.
Certainly, designers don't need to fix what isn't broken or to scrap tried-and-true user interfaces. After all, most serious photographers just want fast, reliable access to their manual controls, not "gimmicky" interface tweaks.
But because so many point-and-shoot cameras offer the same basic specs and button layout, we'd love to see more experimentation with body styles and user interfaces. A range of color options just doesn't cut it anymore.
This story, "Four Ways Camera Phones Are Better Than Cameras" was originally published by PCWorld.