Page 2 of 2
Layer Your Photos
The first thing to do after you've uploaded your photos is to layer them. The shot with the screen should be on top, and the photo without the monitor should be on the bottom. The reason will become clear in a moment. Once you've layered the two photos, you need to align them. To do this in Gimp, select the image with the monitor in it, and then click Select, All from the menu bar. Then choose Edit, Copy to copy the entire picture. Now, go to the second photo, and click Edit, Paste As, New Layer.
At this point, you need to align the two photos by selecting Image, Align Visible Layers. Be sure to uncheck Ignore the bottom layer even if visible, and instead check Use the (invisible) bottom layer as the base.
Frame Your Screen
Next, you want to use Gimp's Free Select Tool (in Photoshop it's called the "polygonal lasso") to frame your screen. This type of lasso is easy to use since you have to create a closed shape to complete your cut. Don't use a magic wand or any other tool to do this, as you aren't going to cut out the contents of the top image; rather, the photo of your monitor is merely serving as a guide.
Move to Layer Two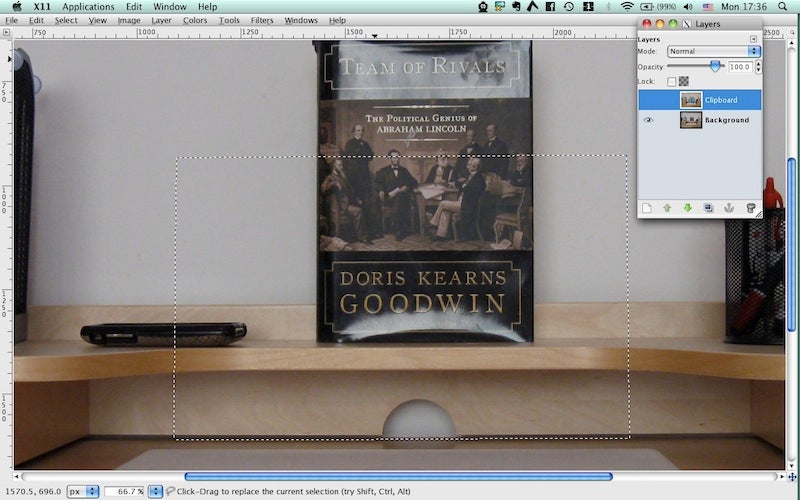 Now that your cut is ready, it's time to get rid of the first layer so you can cut out the contents of the second layer. Open your layers dialog box, and in Gimp select Windows, Dockable Dialogs, Layers.
Click the eye icon next to the top layer (the image with the screen visible). You should see the image without the screen, with the selection frame that you created in the previous step over the top. To copy the selected area and create a new file, click Edit, Copy Visible, and then select File, Create, From Clipboard.
Size Your Transparency
All you have to do now is create your background desktop image. The best way to edit this part is to go into full-screen view. You should see that your new selection doesn't quite match up with the edges of the image canvas. To fix this, use the transform tool, but make sure you that have turned off the 'constrain proportions' setting. In Gimp that means making sure the link icon is broken in the transform tool dialog box.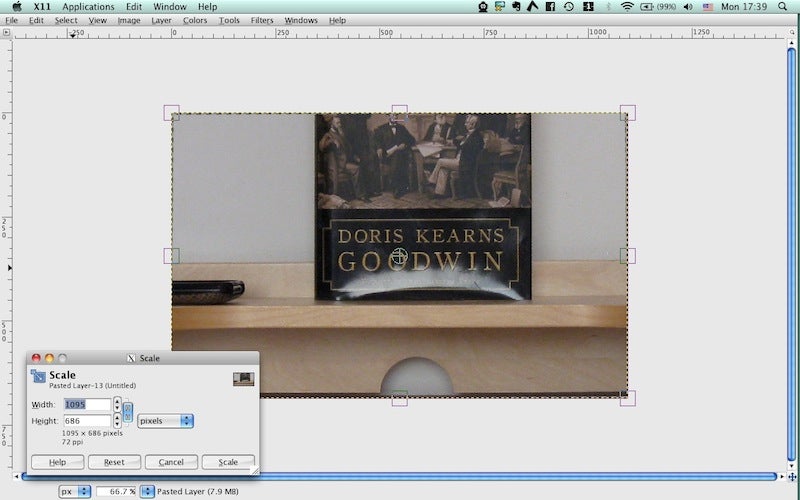 Now, use the transform tool to push the edges of your photo until they just barely fill the entire canvas. Once you've done that, save your work (make sure you know the location of the saved image) and examine the final product to confirm that the canvas is filled.
At this point, you need to match your photo's dimensions to your computer screen's resolution. Click Image, Scale Image, again make sure that the 'constrain proportions' setting is turned off, and adjust your photo size to match your screen resolution numbers. My laptop's screen, for example, has a resolution of 1200 by 800 pixels.
Set Your Background
The moment of truth has arrived. Set your resized image as your desktop background, grab your camera and tripod and get ready to snap your first transparent photo. In person, your transparent desktop background may not look like much, depending on the resolution of your camera. But bear in mind that the finished product is your final photo--not the actual desktop image.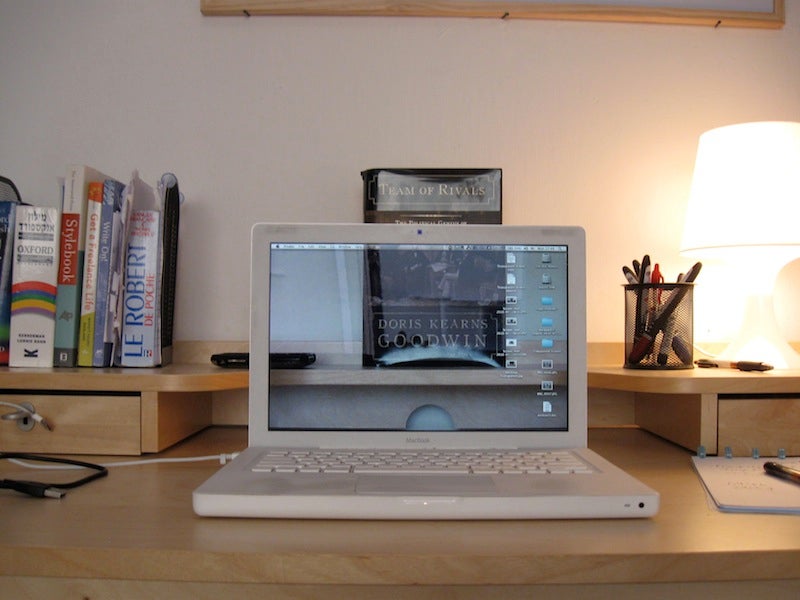 Take a look through your camera, and confirm that everything lines up. If you followed my earlier recommendation, several items will be running off your desktop screen--for example, a cord extending from the back of the monitor onto your desk, or a book that is partially blocked by your monitor. These items greatly enhance the transparency effect, and serve as guides for your monitor's angles. Remember to take your time, be patient, and get the best shot you can.
As you can see, my final shot didn't turn out too badly. I made a few lighting mistakes--but overall not a bad effort for a novice.
What Now?
After you've captured your final image, what you do is up to you. You can put it back into Photoshop and adjust its colors, lighting, and white balance; or if you feel that the image is good enough as is, you can simply declare victory.
Now that you've created your first transparent screen, consider posting your image on your favorite photo-sharing site or adding your work to Flickr's Transparent Screens Pool.
Connect with Ian Paul on Twitter (@ianpaul).
This story, "Make Your Own 'Transparent' Display" was originally published by PCWorld.