Tablet buying guide: The best tablet for you
Today's tablet market is jam-packed with options, spanning all shapes, sizes, and icon-driven app environments. With so many appealing options to choose from, it can be tough to decide which tablet is worth opening your wallet for this holiday season. We cut through the clutter to pick the best tablet to fit your specific shopping filter.
See our complete list of the best tablets.
Our tablet picks take into consideration features, design, price—and a slew of little details that make them personal favorites among the crowd. In a few cases, the race is tight, and when it is, we also name a runner-up. In other cases, you'll see some repeat favorites, too—that's just how well-rounded those tablets are.
Best 7-inch tablet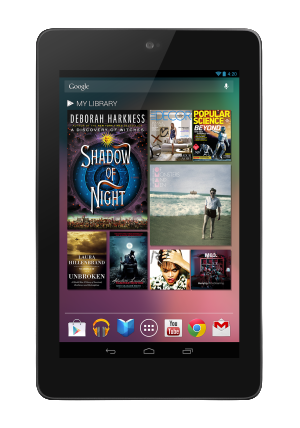 When we talk about 7-inch tablets, the contenders in this category can creep up to nearly 8 inches. This range encompasses models like the Apple iPad mini (with a 7.9-inch display) and the Toshiba Excite 7.7 (with, as its name implies, a 7.7-inch display). The best pick here, though, is the Google Nexus 7. Starting at $199 for the 16GB model and $249 for the 32GB model, the Nexus 7 is a complete, highly portable tablet that can handily meet your diverse needs. Loaded with Google's latest operating system—Android 4.2—it has one of the best displays on a petite tablet, with 1280-by-800-pixel resolution. You also get features like separate profiles—a convenience that Apple's iPad mini is sorely missing—and all of the flexibility of Android's more-open app ecosystem.
Runner up: The Apple iPad mini. I find it difficult to recommend the mini on general terms: At $329, it's pricey, and its display is subpar versus its competitive set. But it's an appropriate pick for a very large subset of shoppers: Those who know they want an iPad—whether because of the brand name, or because they already have a commitment to the Apple music, video, and app ecosystem—and who want the least expensive iPad money can buy.
Best 10-inch tablet
As with the 7-inch tablets, we fold a range of tablet sizes into this category, spanning Apple's 9.7-inch iPad on up to Microsoft's 10.6-inch Surface with Windows RT. In this category, the fourth-generation Apple iPad with Retina display gets the nod. Starting at $499 for a 16GB model, Apple's iPad remains the class act to beat for overall design, best overall performance, best display, and most varied and deep app ecosystem.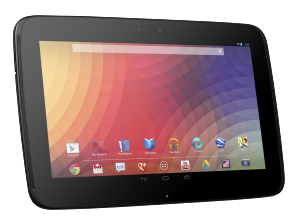 Runner up: The Google Nexus 10, which starts at $399 for a 16GB model. This Android 4.2 tablet offers the latest Android OS and solid graphics and overall performance. And its high-pixel-density 2560 by 1600 display is sublime.
Best budget tablet
This category has lots of contenders, but only two models rise above the fray: the Amazon Kindle Fire HD and the Google Nexus 7, both starting at $199 for 16GB. The Kindle Fire HD stands out as a pick this holiday season simply because it's reasonably capable and we've been seeing this 7-inch tablet offered with additional discounts or promotions. If such deals surface again, this tablet represents a solid bargain.
If price remains equal, though, the Google Nexus 7 takes the lead—for all of the same reasons it's also our top pick in the 7-inch tablet category.
Whatever you do, avoid the bargain-basement specials from brands you've never heard of, or even those special buys from once-familiar brands. These tablets are neither as capable nor as powerful as either the Kindle Fire HD or or Nexus 7, and their lack of finesse and, often, responsiveness will relegate them to them to the junk heap.
Best tablet for reading
Easy, no-brainer here: The Barnes & Noble Nook HD is the best tablet for reading. The 7-inch Nook HD has silky smooth fonts and a crisp, high-resolution display unlike any other you'll see today. It's also a pleasure to hold in-hand since it weighs just 0.68 pound. The one gotcha here is that Barnes & Noble's tablet app selection is far more limited than that of the competition. Sure, you can get your Hulu+ and Angry Birds fix, but the app selection is highly curated. The major apps you seek may be here, but not more obscure choices.
Best connected tablet
The $299 Google Nexus 7 WiFi + Mobile data is a terrific choice here, simply because of its unlocked SIM card slot. For just a $50 premium over the standard 32GB version, you can add HSPA+ support across some 200 carriers worldwide, using whatever plan you choose.
Best tablet for taking notes
The pick here is simple: The Samsung Galaxy Note 10.1. Like its smaller Galaxy Note II phone cousin, this 10.1-inch tablet has a Wacom digitizer with a pressure-sensitive pen that makes it simple to annotate documents, scribble notes, and draw figures and diagrams. The pen is comfy to hold and the tablet has a convenient, built-in storage well so you won't misplace the pen as easily as you might otherwise. The tablet ships with several pen-optimized apps, including Samsung's own S Note and Adobe's Photoshop Touch. Samsung's on-screen keyboard is highly responsive, and since this is Android, you can also opt to replace the keyboard with a more full-featured one from Google's Play store, such as SwiftKey.
Best tablet for gaming
This is a tough call, because "best" here is based in part on the tablet's own graphics processing power, and in part on the tablet's app ecosystem.
Among larger tablets, the Apple iPad comes out on top, scoring best in both of the offscreen GLBenchmark 2.5.1 tests we perform. For smaller tablets, the iPad mini lags on system processor performance (tested using the Geekbench benchmark), but it leads by far on the graphics tests and seems fairly capable for games.
Runners-up: The Google Nexus 10 and Google Nexus 7. The 7 shows better detail on some games, due to the inclusion of Nvidia's Tegra 3 processor, but both the Nexus 10 and the Nexus 7 had the best overall benchmark performance and real-world results among Android tablets for their respective size classes.
Best tablet for battery life
If all you value is how long a tablet will last on a single charge, the $399 Apple iPad 2 currently holds the record for battery life among 10-inch-class tablets: It logged 11 hours and 31 minutes during our 720p high-definition video playback test. For context, that's nearly two full hours more than the current fourth-generation iPad, and 40 minutes longer than the best Android tablet, the Sony Xperia Tablet S.
As for the 7-inch tablets, best battery life honors go to the Google Nexus 7, which lasted 10 hours and 12 minutes, a full hour more than the next-closest tablet, the iPad mini.