Google Doodle celebrates Star Trek anniversary
The 46th anniversary of the cult TV show Star Trek isn't until Saturday, but Google is celebrating the event early with a whimsical interactive "doodle" featured on its main page Friday.

The animated doodle has four "scenes," and it's the work of Ryan Germick and Doug Simpkinson, both fans of the show. Working on the doodle was a labor of love, the pair told the Hollywood Reporter. So far, their work has drawn kudos on Twitter from actor George Takei, who played Sulu on the show and is represented by the "L" in the doodle.
The doodle starts on the bridge of the Starship Enterprise. Each letter in the "Google" text is dressed in a uniform made famous in Star Trek, which first aired on Sept. 8, 1966, with the episode "The Man Trap."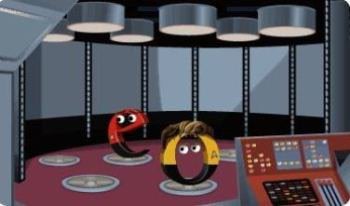 Without giving too much away, the interactive doodle is filled with surprises and homages to the show. If you click on the console and other places in the doodle, you'll hear familiar sound effects, such as the "swoosh" sound of sliding doors.
Additional scenes reveal references to popular episodes in the series. Clicking the "E" character (it's wearing the infamous red uniform that usually marks a soon-to-be-eliminated crew member) prompts an appropriate response. The "O" has a haircut suspiciously similar to Captain James T. Kirk's.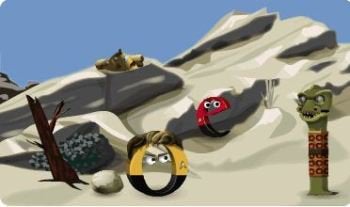 Further along in the animation, the "O" and the "E" are confronted with an aggressive alien, which some fans may recognize from the episode "Arena." If you click on the right things, you'll complete the scene in a grand fashion and return the doodle to the bridge of the Enterprise.