Primed for pigskin: How to watch NFL football anywhere
It's been 50 years since the National Football League entered into a landmark agreement with CBS to air every game played in the then-14-team operation. Times are changing, though, and as more and more people cut their TV subscriptions the NFL is slowly but surely moving into online streaming.
With a digital landscape becoming more dominated by the pigskin, it can be daunting to know where to turn, so here's a guide to all your options—from TV to tablets and everything in between.
On the tube
With the NFL, TV will likely always be king. The NFL has only 16 regular-season games per team (compared to baseball's 162), so each match-up is treated as a premium product. Plus, the relatively dependable schedule—Sunday afternoons from September through December—translates to easy appointment viewing for many people.
Because each NFL team belongs to either the National Football Conference or American Football Conference, it's easy for the league to divvy up the slate. Fox gets the NFC games, while CBS airs the AFC, with most contests starting on Sundays at either 1 p.m. or 4:25 p.m. ET. NBC gets the coveted Sunday Night Football telecast, which starts at 8:20 p.m. ET. Monday Night Football, which originated in 1970 on ABC, now lives on ESPN and kicks off at 8:30 p.m. ET. The upstart NFL Network also airs select games on Thursday nights throughout the season, including one on Thanksgiving evening.
Unfortunately, to maximize its viewing audience and help get butts in the stadium seats, the NFL also enforces a complicated and arcane set of "blackout" rules and regional viewing restrictions. That means a) unless your team sells a certain percentage of seats for a game, that game will not air in your market, and b) your TV provider may at times broadcast seemingly random games in your area.
To stay up on the broadcast TV offerings in your area, The506.com is an invaluable resource and it's one you should bookmark for quick access in the fall. In addition to a complete weekly rundown of games, the site offers color-coded maps that show exactly which game will air where and on what network.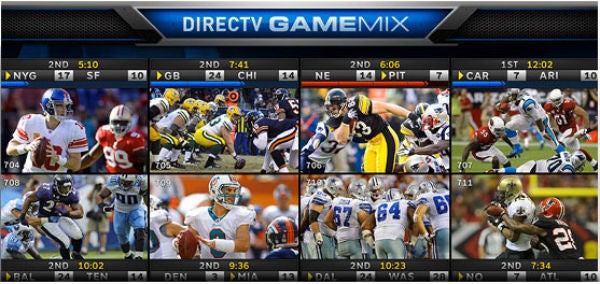 On a growing number of cable providers, customers are able to access the NFL's internally owned and operated channel, dubbed RedZone, which spends about seven hours each Sunday showing nothing but continuous highlights (mainly touchdown plays, hence the name) from every game, even cutting in to show live coverage when warranted. Hosted by Scott Hanson and aired at a frenetic pace that includes no commercial breaks, this entire channel exists solely for this seven-hour window on Sundays. Not since 24 went off the air has a TV program so emulated the rush of pure, nonstop adrenaline. It's not for everyone, but it's strangely addictive for some of us.
The ultimate TV package is available solely to DirecTV subscribers who are willing to pay up. For $225, these folks can sign for NFL Sunday Ticket, which makes available every single Sunday afternoon out-of-market game, broadcast simultaneously along a gauntlet of channels. You can also watch up to eight games at once on what DirecTV calls the Mix Channel, and its Player Tracker lets you keep tabs on up to 18 players (a big perk for any fantasy football junkie).
For an extra $75, you can sign up for NFL Sunday Ticket Max, which throws in NFL RedZone Channel and Short Cuts, which condenses games into 30-minute chunks for easier viewing after they air.
Going mobile
The big get with the Max package, though, is the ability to stream Sunday Ticket via DirecTV's mobile streaming app, available for both iOS and Android, as well as streaming on your computer. The app is free (although you're already paying $300 for the TV package) and it's an incredible value-add for customers who can't get in front of a TV when their favorite team is playing.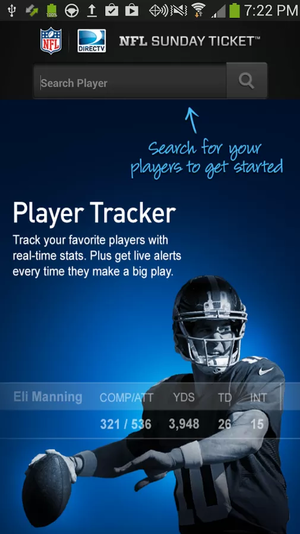 The only big caveat with Sunday Ticket is that games played outside of the typical Sunday afternoon slate—that is, night games on Sunday, Monday, Thursday, and Saturday—are not technically part of Sunday Ticket and therefore not accessible via TV or the mobile app. (Also, if you don't feel like paying full price for Sunday Ticket you can wait until midseason when the price is invariably slashed.)
As an aside, Amazon is currently giving away free access to the streaming version of Sunday Ticket to customers who buy a copy of EA's Madden NFL 25th Anniversary Edition video game for $100.
You're not going to find any official live streaming outside of DirecTV's Max package. NFL.com does offer something called GameRewind, which provides archived broadcasts of every game after it airs. The service is available on computers and iOS and Android mobile devices. GameRewind also includes All-22 film, which had previously been only available to teams; it gives viewers wide-angled video that shows all 22 players on the field at once. That costs $70, while a scaled-down version (which opts for the regular game film as well as other viewing restrictions) costs only $40. You can also buy access to all of a specific team's regular season games for $30.
The official NFL Mobile app, free for both iOS and Android, doesn't quite rise to the level of quality and content of MLB's At Bat app, but it's more than a glorified scoreboard. The NFL's mobile offering provides video highlights, customizable team alerts that are easily set up, audio broadcasts, and built-in fantasy football updates (provided that you play through NFL.com).
However, certain key features (streaming live games to your device, up-to-the-minute news alerts) are reserved for Verizon customers only. The Verizon version of the NFL Mobile app provides live access to any Thursday, Sunday, and Monday night game. Starting next year, the app will also include access to local home-market games, but only on smartphones. Verizon paid the NFL $1 billion for the rights to the content for four years.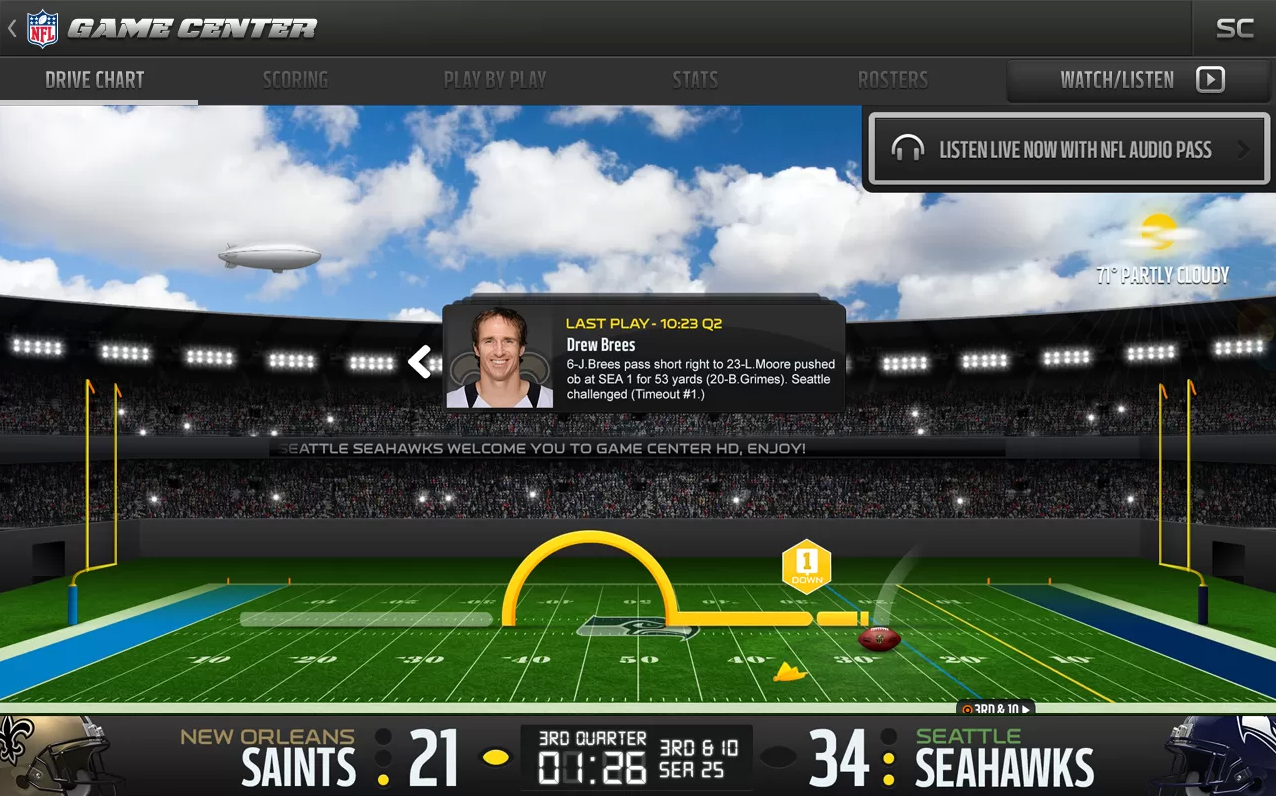 Subscribers to other wireless networks are stuck with a crippled version of the same NFL Mobile app. A few tablets are able to access the additional content by joining NFL Mobile Premium ($5 per month), but Verizon has locked up an exclusive on live NFL streaming.
Outside of that, your (legal) streaming and mobile options are limited. The audience exists: more than 2 million people signed up to stream Super Bowl XLVI , showing that there's broad support for mobile and online options. For now, however, the NFL seems content with the TV crown.