Samsung Galaxy Note gets Android 4.0 and new features
One of the big weaknesses of Samsung's behemoth Galaxy Note was that it ran an outdated version of Android, Gingerbread. On Tuesday, July 10, Galaxy Note owners will be able to update their Galaxy Notes to Android 4.0 via a tethered update. But that's not all: You'll also get the S Note Premium Suite, which offers new features for Samsung's note-taking app. I got a chance to play with an updated Galaxy Note with Premium Suite and I was impressed with how much faster and responsive the Note felt with the 4.0 update.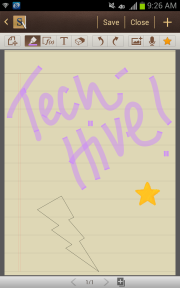 In Premium Suite, you can now choose from seven different templates: Note, Meeting Note, Idea Note, Magazine, Diary, Recipe, and Travel. These templates allow you to easily add images, video, maps, and text for whatever you feel like creating in S Note. You can also now record and play back step-by-step details of you drawings and share them with others. While this feature is cool, I don't really see the purpose of it. I suppose it could be useful if you want to show somebody step-by-step directions on a map or something.
Premium Suite also has an automatic shape correction feature, which will straighten any lines and create perfect circles or rectangles. It seems like it would be useful for drawing flow charts on the fly. You can also enter basic mathematical equations and S Note will solve them for you via Wolphram Alpha.
You'll also get a new app called My Story, which lets you create multimedia letters and cards. As far as I can tell, you can only share these notes with other people who have the My Story app—basically fellow Galaxy phone owners. If you use S Note regularly, you'll be quite happy with these new features.
Of course, you'll also get all the goodness found in Ice Cream Sandwich. While it was annoying that Samsung shipped the Galaxy Note without the latest version of Android, all of these extra features make the wait worth it.