Acer's Aspire One 532h Netbook Is Well Priced But Not Easy to Type On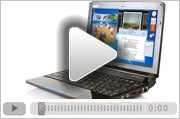 While Acer's Aspire One 532h has a sturdy overall feel and is inexpensive, the keyboard is hard to type on, and the touchpad isn't particularly well designed. But for those on a very strict budget, this $300 netbook will get the job done.
Product mentioned in this article
(1 items)
For comprehensive coverage of the Android ecosystem, visit Greenbot.com.