The HP 200 All-in-One PC: Great for Video in Small Spaces
At a Glance
HP All-in-One 200-5020

TechHive Rating

Though it lacks a touchscreen, HP's All-in-One 200 offers excellent performance for the category, and a lush display.
T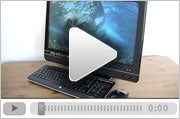 The HP 200 All-in-One PC has a roomy hard drive, a variety of connectivity options, and a wireless mouse and keyboard. But its standout feature is its bright and attractive 1080p high-def screen.
At a Glance
HP All-in-One 200-5020

TechHive Rating

Though it lacks a touchscreen, HP's All-in-One 200 offers excellent performance for the category, and a lush display.

Pros

Strong performance for the category
Attractive chassis

Cons

Missing advanced interface connections
No touchscreen