Sony's Alpha NEX-5 Digital Camera: DSLR Capability Without DSLR Complexity
Sony alpha NEX-5N

$700.00 (Check Prices)

via Amazon Marketplace

Amazon Shop buttons are programmatically attached to all reviews, regardless of products' final review scores. Our parent company, IDG, receives advertisement revenue for shopping activity generated by the links. Because the buttons are attached programmatically, they should not be interpreted as editorial endorsements.

Sony's first interchangeable-lens compact camera, the NEX-5 offers image and video quality on a par with a DSLR and has unique modes that go beyond anything else in its class. The only thing missing is a...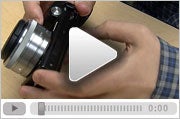 Sony's new Alpha NEX-5 digital camera also offers a very-high-resolution LCD screen that tilts, as well as a conveniently small size. You can take photographs with this interesting camera without having to memorize a manual, too.