Sony's Alpha NEX-5 Digital Camera: DSLR Capability Without DSLR Complexity
Sony alpha NEX-5N

Sony's first interchangeable-lens compact camera, the NEX-5 offers image and video quality on a par with a DSLR and has unique modes that go beyond anything else in its class. The only thing missing is a...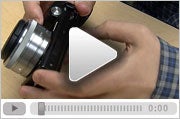 Sony's new Alpha NEX-5 digital camera also offers a very-high-resolution LCD screen that tilts, as well as a conveniently small size. You can take photographs with this interesting camera without having to memorize a manual, too.