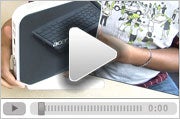 If you want to add a PC that can stream video from Hulu or Netflix to your HDTV in the living room, look no further than the Acer Aspire Revo AR3610. This little PC costs only $330, and would be a stellar addition to your home theater setup.
This story, "The Acer Aspire Revo AR3610 Tiny PC Is Perfect for Living Room Multimedia" was originally published by PCWorld.
At a Glance
Acer AspireRevo R3610 Nettop PC

TechHive Rating

Acer's media-centric nettop offers Ion graphics, HDMI output, and high-speed networking.
Shop Tech Products at Amazon