Sony Ericsson's Xperia X10 Smartphone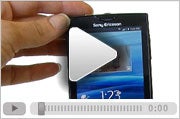 The Xperia X10 is Sony Ericsson's latest twist on Android smartphones, and it has a gorgeous 4-inch display and an excellent 8-megapixel camera. However, its lack of multitouch, sluggish software, and its adoption of an outdated version of the Android OS hamper the user.
For comprehensive coverage of the Android ecosystem, visit Greenbot.com.