Sony Ericsson's Xperia X10 Smartphone
Sony Ericsson Xperia X10

$115.00 (Check Prices)

via Amazon.com Marketplace

Amazon Shop buttons are programmatically attached to all reviews, regardless of products' final review scores. Our parent company, IDG, receives advertisement revenue for shopping activity generated by the links. Because the buttons are attached programmatically, they should not be interpreted as editorial endorsements.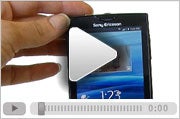 The Xperia X10 is Sony Ericsson's latest twist on Android smartphones, and it has a gorgeous 4-inch display and an excellent 8-megapixel camera. However, its lack of multitouch, sluggish software, and its adoption of an outdated version of the Android OS hamper the user.