Excellent Games Already Available for the Apple iPad
Apple iPad with Wi-Fi 32GB

Apple looks set to shake up casual computing with a tablet that offers clever design and ease of use. But that streamlined approach may also be the iPad's weakness.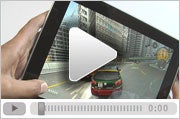 There already are some superior games available that take advantage of the new Apple tablet's high-res screen. Staff Editor Nate Ralph takes a look at the games Worms HD, Fieldrunners, Scrabble, Plants vs. Zombies HD, and Need for Speed Shift.