Apple iPad in Action: Is it Just an Oversized iPod Touch?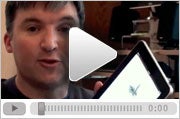 Jason Snell, Macworld's Editorial Director, demonstrates some of the iPad's features, including its slideshow capability, the calendar app, and the contacts list, the iTunes Store and music playing capability and some of the apps available for Apple's new tablet, including Marvel Comic's new app.
Product mentioned in this article
(1 items)
Apple iPad with Wi-Fi 32GB

Apple looks set to shake up casual computing with a tablet that offers clever design and ease of use. But that streamlined approach may also be the iPad's weakness.