Microsoft continues the Zune HD's game of leapfrog with the Apple's iPod touch, announcing a 64 GB Zune HD and cutting prices on existing models.
The 64 GB model goes on sale April 12 for $349.99, roughly $50 cheaper than the 64 GB iPod touch that Apple released last September. Starting today, 32 GB and 16 GB Zune HD models cost $269.99 and $199.99, respectively, however the old prices are still showing up in Microsoft's online store. Apple sells a 32 GB iPod touch for $299 and an 8 GB model for $199.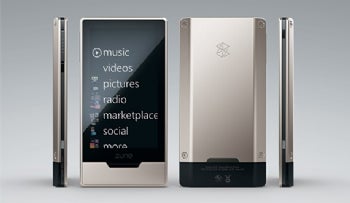 New and existing Zune HDs will also get some new features through a firmware update. The "smart DJ" creator will work directly on the device, and A/V dock owners will be able to download songs from the Zune Marketplace through their televisions. The player will also support some new audio and video codecs.
Microsoft released the Zune HD in September 2009, to solid but not amazing reviews. The touch screen portable media player has a crisp and simple interface, and it supports HD Radio, but it's decidedly lacking a marketplace for third-party applications -- arguably the iPod touch's bread and butter. Microsoft has released a handful of apps developed in-house, including Facebook, Twitter and some 3D games, but there's no official word that the Zune HD will get an app store.
In lieu of third-party apps, the Zune HD's biggest advantage over the iPod touch is Zune Pass, which costs $15 per month and lets you download unlimited songs from the Zune Marketplace (of course, they'll evaporate if you cancel your subscription). But with Rhapsody's iPhone and iPod touch app soon to get offline listening, both devices will allow music fans to take their subscription tunes off the grid.
Now we wait to see which media player will be first to crack the (truly) under-$200 barrier.
This story, "64 GB Zune HD Coming, Price Cuts on the Rest" was originally published by PCWorld.