AceShot XR7000: The Smallest DSLR Camera Ever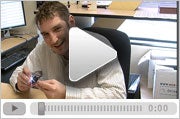 Cameras have become progressively smaller, but the AceShot XR7000 could be the tiniest we've ever seen. Senior Editor Tim Moynihan takes a look.

Amazon Shop buttons are programmatically attached to all reviews, regardless of products' final review scores. Our parent company, IDG, receives advertisement revenue for shopping activity generated by the links. Because the buttons are attached programmatically, they should not be interpreted as editorial endorsements.